I've wanted to put plants on a Christmas tree since I was a kid. I've imagined trees strung with pomegranates, trees covered in black mondo grass, and trees decorated with mossy branches. I like the idea of decking the tree with organic friends.
Plants and greenery are hard to forage in my San Francisco neighborhood, but Julie's Mill Valley house is surrounded by a verdant border. She wanted a tree; I wanted to put plants on it. She had a garden; I wanted to cut it up. A match was made, and it was as much fun as I'd hoped.
Photography by Meredith Swinehart.
Above: Our completed tree in Julie's living room. To recreate the look, start with a Fresh-Cut Noble Fir Tree, available at The Home Depot; $89.98 for an eight-footer like ours.
Photography shot with the Canon EOS 70D digital SLR camera, with Dual Pixel AF technology and built-in Wi-Fi.
Above: We began by covering the fir with 35 feet of cedar garland; I wanted a subtle contrast between the two greens. For a similar look, The Home Depot sells White Pine Garland; $34.95 for 25 feet. We covered the base with a roll of Easy Gardener 3-foot by 24-foot Natural Burlap Fabric; $12.37 at The Home Depot.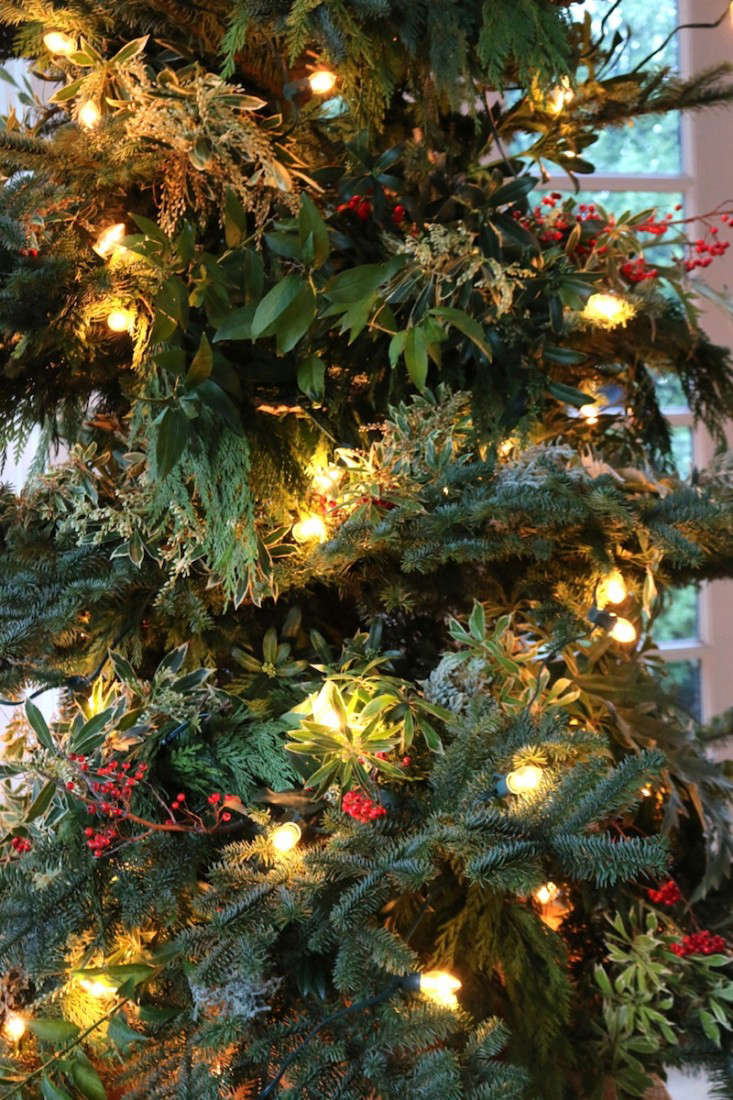 Above: Next, we added four strands of 25-Light Clear C7 Lights; $35.12 for two strands at The Home Depot.
Above: I then cut up some plants and introduced them to the mix. I secured them using Gardener's Blue Ribbon Sturdy Twists Plant Tie Wire; a 100-foot roll of wire is $2.97 at The Home Depot. Artichoke fronds were a great find from Julie's garden, and a perfect partner to the bright red berries I found there.
Above: I wanted the tree to have a full look, so I sourced extra holidayesque plants at my local Home Depot nursery and cut them up. To me, Japanese andromeda 'Flaming Silver' and Japanese variegated lily of the valley are both reminiscent of holly. At the top, little bouquets of lavender cotton dot the tree as silver-green "ornaments."
Above: For extra berries, I cut up a Japanese skimmia. To extend the life of the foliage, soak the stems in water overnight before decorating. How long the clippings stay fresh depends on many factors, including exposure to direct heat and sun. For a tree that will be on view for a while, consider using a plant anti-transpirant, such as Wilt-Pruf Plant Protector available at The Home Depot.
Above: The tree begs for a closer inspection of its many textures and colors.
(Visited 14 times, 1 visits today)