OK, so he's more style-conscious than you are. What to do on the gift-giving front? Here's our roundup of presents for the sartorialist in your life.
To make sure we've got everyone on your list covered, we're posting a new gift guide every weekday from now until Christmas. See all of the Gift Guides to date in our archive.
Above: And you thought only cars and music were made in Detroit. The Shinola Runwell Watch is hand-assembled in the Motor City from 46 Swiss-made components. It has a stainless steel case and the strap is crafted of premium American-made orange leather (other strap colors available); $575 through Shinola.
Created by brothers Emil and Sandy Corsillo of Brooklyn, NY, Hill-side scarves are handcrafted in the US from heavy-duty fabrics, most of which are sourced in Japan. The Hill-side Grey Border Stripe Flannel Scarf (L) is made of a Japanese wool and cotton blend fabric that's washed for softness; $104. The Hill-side Apple Green Modified Herringbone Scarf (R) is a cotton-blend fabric made from recycled yarns in Virginia on a vintage shuttle loom; $97. Both designs are available at Union Made. 
Above: Published twice a year, The Travel Almanac "explores topics of traveling and temporary habitation from the personal perspective of innovative figures in the fashion, music, art, and film worlds." The current Autumn/Winter 2013 issue features contributions by and conversations with Matthew Barney, Linder Sterling, Juergen Teller, Ian Schrager, and Shintaro Sakamoto. The magazine is published in English in Berlin; current and past issues are available for $18 each through Nationale. 
Above: "Made by barbers. Made to work. Made in the USA." is the motto of Imperial Barber Products. The Imperial Barber Shave Bundle is a collection of natural potions to enhance the non-electric shave. It includes glycerin face/shave soap, blade glide enchancing pre-shave oil, and Bergamot after-shave; $34 from Imperial.
Above: Simple, clean, and well crafted, the leather Makr Charcoal Latigo Round Wallet features front and rear pockets for cards and a concealed center partition for cash; $125 at the Old Faithful Shop. 
Above: Made in Japan, the spiral-bound Postalco Notebook features pin-graph paper and a cloth-bound cover that when flipped over extends beyond the bottom of the paper to better support your hand while writing. The Small Postalco Notebook, 3.25 inches by 5 inches, easily slips into a pocket. The Medium Postalco Notebook measures 4.5 inches by 7 inches. Both are available in navy (as shown), red, yellow, and light blue; $12 and $19 respectively at Kaufmann Mercantile. 
Read The Pocket Notebooks of 20 Famous Men and you will be inspired to give the hipster man in your life a supply of notepads.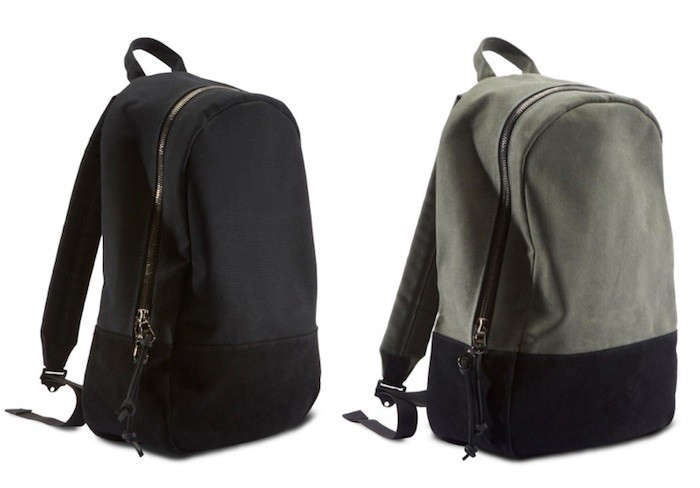 Above: Designed and manufactured in LA's Silverlake neighborhood, the Kill Spencer Original Wax + Suede Daypack is made of waxed canvas and suede with an antique Swiss Riri silver zipper, padded straps, and a leather or canvas handle. The interior features a laptop sleeve and small pockets. Shown in black waxed canvas (L) and Korean-era waxed canvas (R); $325 at Killspencer. 
Above: For the bike-riding sartorialist. Inspired by a group of cyclists called Mopha who wanted a simple, functional way to carry their cycling tools, the Mopha Tool Roll is crafted in Seattle of oiled canvas and leather trim secured with a vintage toe strap. Available in eight color combinations, it's $44 at EH Works. Tools not included.
Shopping for a man who likes toiletries? See 10 Favorites: The Best of Black Soap. A great cook? Check out Now Serving: Perfected Tableware from the Past.
(Visited 33 times, 1 visits today)