I recently consulted with Carmen Ruiz de Huidobro of Espanolita to fine-tune the details for a trip to southern Spain. Carmen is an LA-based production designer who grew up in Madrid and keeps her home ties by leading tours and chronicling her favorite Spanish finds in the Espanolita Journal. Thanks to Carmen, I explored Madrid, Granada, and Almeria with my family, and we felt lucky to have Carmen's inside track. But we've only been able to admire from afar one of her most intriguing recommendations: Abbatte, a mother-daughter-led weaving workshop and teaching center set on the grounds of a shored-up 13th-century Cistercian monastery in Segovia.
Founded to revive the tradition of hand-weaving classic household essentials, Abbatte occupies a surprisingly modern minimalist clubhouse next to the abbey. In these airy rooms, artisans weave, and courses and conferences take place on "textiles, fashion, art, and the philosophy and science of color." The latter is a particular specialty: The surrounding garden plots are filled with plants grown to create Abbatte's dyes and to help "reawaken an interest in botanical dyes." Did someone say glorious? Here's a look.
Photography courtesy of Abbatte.
The Monastery and Weaving Workshop
"We knew about the monastery because our family has a house nearby in the Guadarrama mountains," Camila tells us. "We fell in love with the place and the surroundings and did not want to see it  fall apart." Their mandate for Ballarín? "We didn't want to overshadow the old building—or to replicate the look of it; we decided to introduce a smaller, one-story structure that is very modern, so that with just a look people can distinguish the old from the new."
The monastery was built between 1220 and 1270 and disentailed in 1836.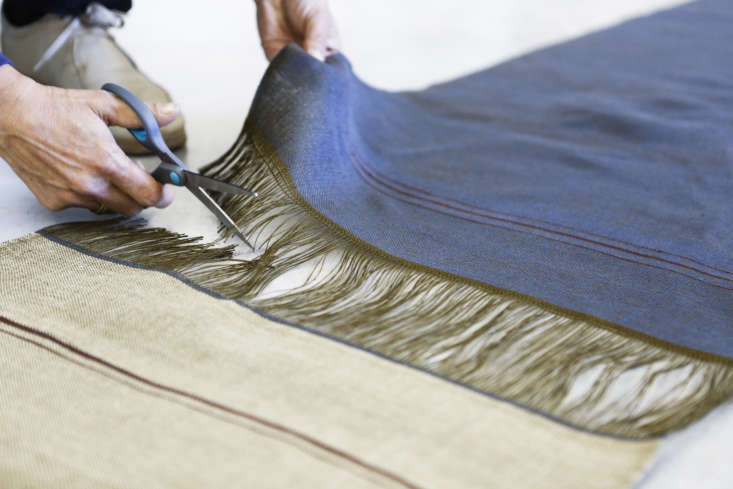 The Dye Garden
"Abbatte harvests plants for dying with the dual objective of supplying the company with natural dyes as well as spreading awareness about these plant species," explains Camila. "We are working to bring back Rubia tinctorum, an ancient species of madder that used to be widely used throughout Castille." Last year, Abbatte received the Hispania Nostra Award for "good practices in conservation of cultural and natural heritage."
The Dye Hut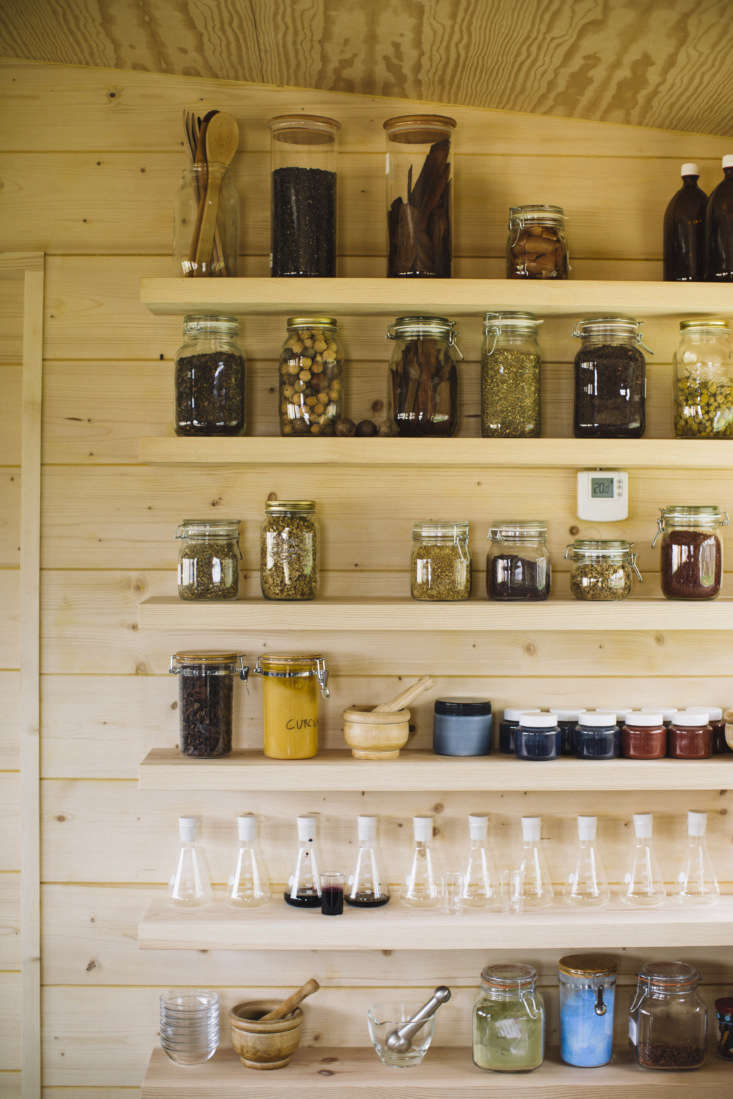 The Weavings
The company showed at New York's International Contemporary Furniture Fair (ICFF) for the first time this past month. Its first US vendor is Oz Architects' new Los Angeles emporium the Oz Shop, at 8632 Melrose Ave.; its Abbatte designs can be viewed here.
The Designs in Use
For more heritage textiles, take a look at:
(Visited 386 times, 1 visits today)