In 2010, Bonnie Ashley, whose background includes floral and textile design as well as printing, and Neil Downie, a furniture designer, launched Bonnie and Neil, an original collection of vivid accents for the home. Sporting bold graphics–strong geometrics, and lush florals–in vibrant hues, Bonnie and Neil's collections conjure images of exotic spaces and sun-baked lands. From cushions, bed and table linens, to timber wall tiles, each piece is hand made and printed, using all natural materials, at their Brunswick studio. N.B.: Several of their designs are available at Anthropologie in the US.
Above: Bonnie and Neil's Moorish-inspired Timber Tiles (shown here in Black Diamond; $25 each) provide a dramatic backdrop for their cushions. Subtle variations resulting from Bonnie and Neil's process of hand-printing with water-based dyes onto natural fabrics renders each Cushion wholly unique; $125 each.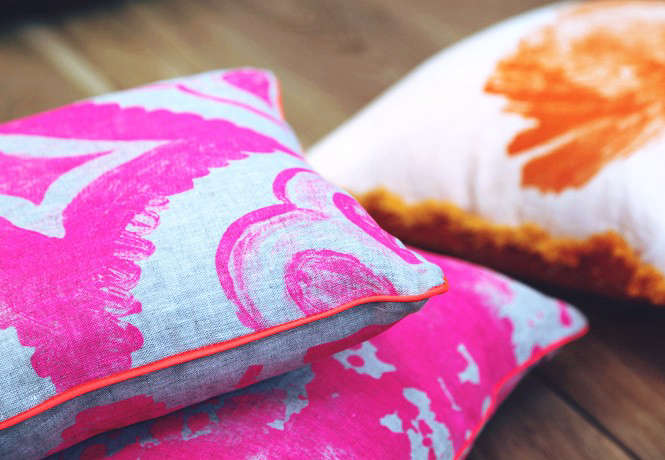 Above: Naturally inspired motifs and vibrant hues lend a tropical feel to this collection of cushions at Koskela. 
Above: Spotted via Design Files Daily, this Melbourne cottage designed by Bonnie and Neil features their chevron bedding as well as their Shadow Boxes, handmade from reclaimed Tasmaninan oak; $125 to $220. Photo by Armelle Habib.
Above: More generous than their throw pillows, Bonnie and Neil's Floor Cushions are made from rugged linen; $145 to $155. The cushions here are shown on one of the designers' Recycled Rag Rugs and Decorative Boxes.
Above: Bold table linens by Bonnie and Neil (seen against their Cordoba Tiles; $25) are part of their new "Pottery" collection. Photo by Armelle Habib via The Design Files.
Above: Bonnie and Neil's Begonia Tablecloth, made from linen, is available at Anthropologie; $228.
Above: More favorites via Anthropologie–Bonnie and Neil's Brooks of Bohemia and Grayscale Trellis tablecloths; $228 each.
N.B. Want more exotic accents to throw around your home? Otomi Embroidered Pillows are another favorite bold design.