When we toured blogger Eva Kosmas Flores' 1937 English Tudor-style house in Portland, OR, a few months back, we were struck by the deliciously dark and moody, almost eerie, interiors. When Flores moved in, the house had mold in the basement but good, albeit creaky, bones; during the remodel, strange finds surfaced, like an old baby picture caught behind the fridge. Flores, who runs the blog Adventures In Cooking, modeled the interiors after the horror film The Babadook, dead branches and animal skulls included, but manages to make it look intriguing, not kitschy. We asked her how to incorporate darkly creepy, naturalistic decor into interiors, on Halloween and all year round. Here are her ideas:
Photography courtesy of Eva Kosmas Flores.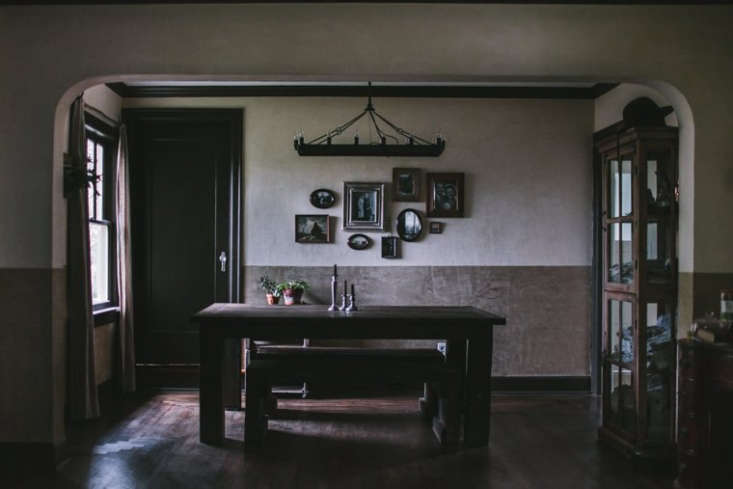 1. Take cues from horror films
"Some horror films help amplify the spooky-yet-elegant vibe of the story through really striking interior design," says Flores, who studied film production. "The Babadook takes place in a home with a monochromatic color scheme of a very pale blue with textured plaster walls throughout the home; The Others combines graceful vintage furniture pieces with jaw-dropping hardwood floors and sweeping ceilings. Other frightful films with inspirational decor worth checking out are The Witch, El Orfanato, and The Devil's Backbone."
2. Set the table with dark matte ceramics
"Nothing makes a table feel spookier than dark serveware," says Flores. "Plus the contrast between the darker plates and the vibrant food makes the dishes you're serving look all the more lush and appetizing." Matte ceramics look moody and natural, rather than glossy and overly-styled. (For ideas, see 10 Easy Pieces: Dramatic Black Dinnerware.)
3. Opt for dusty, rather than glossy, gourds
"For a more reserved take on traditional Halloween decor, stock up on winter squash and pumpkins with more muted tones, like pale oranges, tans, whites, creams, and dusty sage greens," Flores says. "I always go for matte squash rather than the shiny ones, too, since they have a little bit of a dustier appearance that gives them an antique feel. You can use smaller ones as table runner or centerpieces, or place larger ones throughout the home in strategic locations like your porch or along the side of your staircase." Or, Flores says, create an odd arrangement: "Place them on an end table in front of windows in your home so that viewers from the outside can enjoy the dark profile of eerily-shaped heirloom gourds and squash from your windows at night when the lights are on."
4. Rethink taxidermy
"Old taxidermy pieces add just the right touch of creepiness to any room, while simultaneously giving it a boost of elegance. They're commonplace at most antique shops, and you can also find them online at resellers like Etsy and eBay," says Flores. "While birds resting on twigs and weasels climbing on large branches are always solid choices, don't be afraid to get creative. Things like antler sheds tied together to make a garland can bring a bit of Carcosa [the fictional city that first appeared in an 1886 horror story] to your home."
5. Grow specimens in jars
"Rather than kitschy rubber hands and eyes suspended in Jello-filled mason jars, create a small hydroculture in your home by growing terrestrial plants in glass jars of water," says Flores. "Plants like Marimo moss balls, water lettuce, and water hyacinth thrive in hydroponic environments, and you can use beautiful jars and glass vessels to house them. The roots wafting down into the water look slightly spooky."
6. Take supplies from the medicine cabinet
When it comes to creepy decor, Flores has an unexpected favorite: "Gauze is more than just a medical fabric," she says. "There are different weaves to it, and the fine-weave organic cotton gauze has a beautiful flowing movement to it. It drapes really well, so wrapping or hanging it from things like light fixtures, over tabletops, or around bannisters creates an eerie flowing fabric that catches the wind easily." See the below photo for how to use it as part of an eerie tablescape.
7. Incorporate dead branches
"The winding, reaching arm of a bare gnarled branch can be quite haunting in appearance, and makes for quite the beautiful-yet-spooky accent piece," says Flores. "You can use it in vases, on the table as a centerpiece, or simply repurpose it within your home." Flores used a branch from a dead birch tree as a pot rack in her own kitchen; here, she uses small twigs to add rusticity to candied apples.
​8. Use firelight
When in doubt, use candles. "The flickering light of a candle sets an eerie tone to any evening," says Flores. "Substituting candle light for artificial light during your Halloween festivities takes the creepy-yet-elegant factor up a notch." ("Just don't place a candle right next to a decorative dead branch," she warns.)
N.B. See more of Flores' home in A Food Blogger's Rustic DIY Renovation in Portland, OR, Dark and Moody Edition.
Looking for more dark and moody decor ideas? Consider:
You need to login or register to view and manage your bookmarks.