Eight years ago, when my sons and I arrived home with Kojak, our fluffy black poodle/bichon frise mix, my husband didn't exactly roll out the welcome mat. Since then, she–yes, Kojak is a she–has won her way into everyone's hearts, but especially my husband's (and Julie threatens to bring her back to SF every time she visits). Here are some gifts that I'm considering for Kojak's devotees, and Kojak herself, too.
To make sure we've got everyone on your list covered, we're posting a new gift guide every weekday from now until Christmas. See all of the Gift Guides to date in our archive.
Above: The Roll-Up Cloud 7 Medium Dog Bed, made from recycled hemp and organic cotton and faced with undyed sheep's wool; $135 from Garde in Los Angeles.
Above: Braided Dog Lead made of leather and brass; $45 from Nickey Kehoe in Los Angeles.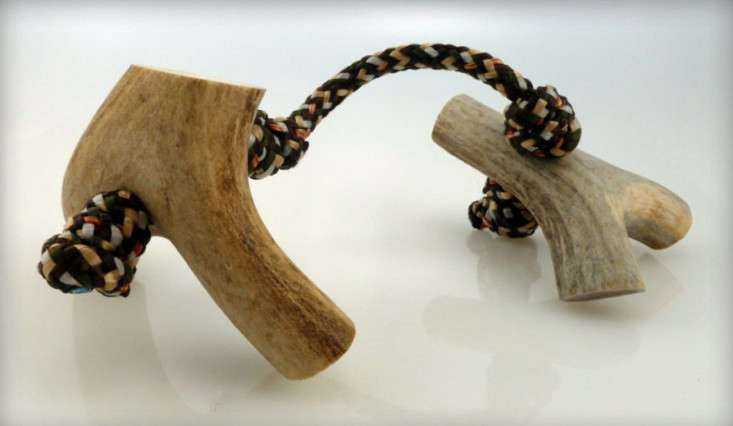 Above: Handmade from rope and North American deer or elk antlers (that are naturally shed), the Double Fork is a dog chew that won't easily disintegrate and is good for canines of all sizes; $20 from Knoxville, Tennessee's Smoky Mountain Studio via Etsy. 
Above: Rinarts Atelier in the Netherlands makes this Leather Dog Silhouette Keyfob from bridle leather (a cat version is available, too); $9.84 via Etsy. 
Above: Declare your allegiance with a hand-printed Doggy Bag Canvas Tote; $16.13 from Etsy seller Invisible Crown of Nijmegen, The Netherlands.
Above: Guaranteed not to hog the bed, the His and Hers Dog Nap Pillow Case Set. Patterned with a charcoal drawing that's screen-printed with water-based ink, the pillowcases are US-made and available in standard, queen, and king sizes. In addition to white, they come in cream, mocha, and green tea; $32 for a pair from Xenotees via Etsy. Cat lovers, check out the Cat Nap Pillowcase Set in our Gift Guide for the Feline Fanatic. 
Above: From the UK, of course, Knit Your Own Dog, $14.95, by knitwear experts Sally Muir and Joanna Osborne, provides patterns and step-by-step instructions for creating 25 pedigrees. And there's also a Knit Your Own Dog, Second Litter, $14.95. (The volumes are published in the UK by Black Dog and Leventhal and available via Amazon.)
Above: My husband is always buying Kojak toys that never last. The durable Hex Squeak toy is handmade of heavy-duty upholstery fabric remnants salvaged from the furniture manufacturing industry in High Point, North Carolina. It's stuffed with fabric strips and has a squeaker sewn into a denim pouch; $15 from Etsy seller Eleanor and Milo.
Above: A portrait of a beloved canine companion is a present that will last forever–but finding the right artist is a challenge. We love the work of Leslie Mello. From her London studio, Mello paints from photos and sketches made during a visit with your dog (or, for those who live too far away, from photos that owners supply). Her prices start at £450 for a small oil painting. See Leslie Mello for more.
Above: Tough and good looking, the Denim Dog Bed is handmade in the UK by Bone & Rag. It has a breathable (and waterproof) inner bed and comes in three sizes, priced from £80 to £120. 
More dog designs? Check out last year's roundup (supplied by our friends at Dogster.com), Holiday Gift Guide: For the Well-Dressed Canine. Also don't miss: 10 Easy Pieces: Dog Food Bowls.
How does a female dog acquire the name Kojak? See Style Counsel: An Architect's Hat Trick.
You need to login or register to view and manage your bookmarks.