An architect copes with climate change by applying his personal version of form follows function to his own wardrobe.
When I first met my husband, Bill, at architecture school, I immediately clocked that this was a man who was unafraid to accessorize (he was wearing a belt of questionable coloration). Over the years, as Bill, now an architect based in the New York offices of AECOM, grew taller than his hair, I witnessed an emerging maturity in his sartorial taste.
Because he travels extensively for his job (master planning for various Olympics' sites, including Rio), Bill copes with the diverse weather conditions he encounters—from rainy London to the hot sunny climes of South America—with one critical accessory, the hat, which all too conveniently compensates for his lack of natural top cover.
Photography by Kristin Perers for Remodelista.
Above: Reading the paper before work, Bill in his favorite Wide Pin Stripe Suit from Savile Row tailor Gieves and Hawkes, Double Happiness Scarf from Shanghai Tang, and a wool felt Classic Fedora from Barbara Feinman Millinery.
Above: Bill's collection includes hats made from a variety of materials, ranging from wool felt to straw.
Above: Bill's warm weather attire consists of a linen suit from Frank Stella Clothiers, a Cotton Scarf from Nom Living on Columbia Road in London, and a Darian Hat from Barbara Feinman Millinery.
Above: Bill sources most of his hats from either Barbara Feinmann Millinery in New York's East Village or the Titanic Boutique on the boardwalk of Venice Beach in Los Angeles.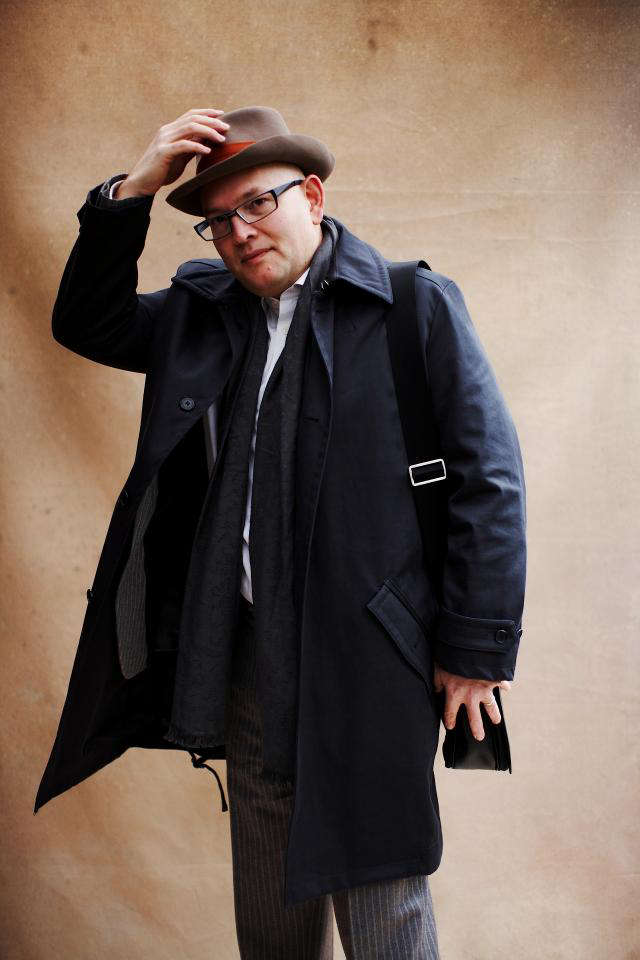 Above: Ready to brave the rain and the tube: rain coat from Gieves & Hawkes and Bungo Messenger Bag from Knomo.
Above: Bill's favorite wool felt Classic Fedora is from Barbara Feinman Millinery.