I know I'm not the only one who is enamored of cats–in our office alone, pictures of Jojo (Julie's cat), Mars (Dalilah's cat), and Minou and Reine (my cats) get passed around like photos of new babies. But even if you're not a feline fan, I trust that you know one or several. Here's a gift guide for cats like us–and our pets. 
Above: No two cats are exactly alike, but most like to be warm and to hide in things, which makes this Crocheted Cat Bed an almost guaranteed hit. Handmade in Alabama of all wool, it's available in a range of colors, including Vanilla Cream, shown here; $45 on Etsy.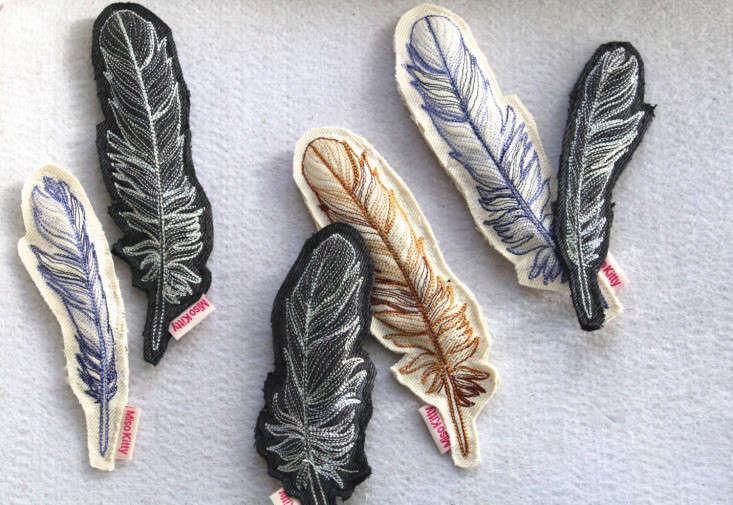 Above: Vegan Feather Cat Toys are cotton denim that's machine embroidered and filled with organic catnip. Made in San Francisco, the toys come in sets of two, one dark and one light, for $12 from Etsy seller Miso Handmade.
Above L: Brooklyn designer and cat lover Leah Goren's Black Cat Dish is glazed in shiny black on the top and unglazed on the underside; $20 each via Etsy. Above R: We also like Goren's Black and White Cats Newsprint Gift Wrap created for Brooklyn retailer Knot & Bow; $6 for four sheets on Etsy. 
Above: The Outdoor Heated Kitty House meets the needs of several kinds of cats: arthritic indoor kitties, feral outdoor kitties, and pampered kitties who run outside but whose owners want to keep them close by; $79.99 at Overstock. 
Above: Toronto designer Michelle Matsui of Kempton Jones studio is "inspired by life's soundtrack." On her Purring Cat Tea Towel, she captured the sound waves of a content cat and screen-printed the graphic onto a white cotton towel; $20 each at Brika. 
To make sure you have something for everyone on your list, consult our Holiday Gift Guides, including: 
(Visited 3 times, 1 visits today)