You know you've got a good gift for someone else when you're secretly coveting it for yourself. When we were putting together our Haberdashery Issue this past February, we all realized this was the case when it comes to classic menswear pieces and utilitarian accessories. With Father's Day approaching, we've rounded up 10 can't-go-wrong essentials for dad. And for more inspiration, take a look at our Father's Day-Themed Pinboard on Pinterest.
Above: Warby Parker co-founder Jeff Raider has teamed up with old friend Andy Katz-Mayfield to launch Harry's. The company, as Raider and Katz-Mayfield say, "was built out of respect for quality craftsmanship, simple design, modern convenience, and most importantly for guys who know they shouldn't have to overpay for a great shave." The Winston Set includes a handle, three German engineered razor blades made from high-grade steel, and a tube of shave cream for $25.
Above: Faribault Mill's Foot Solider Military Wool Blanket has been manufactured since 1917 and was originally designed to adapt to the varying temperatures of Cadet sleeping quarters. Made from heavy double-weave wool and available in four different colors and finishes, the blanket is $119.50 for the twin size.
Above: The ultimate Father's Day gift for the dapper dad is Sara Barner's Overnight Bag in a dark brown English bridle leather. Handmade in Portland, Oregon, the bag is $715 from Table of Contents.
Above: For the beer aficionado, Portland Growler Company's 32-ounce Growlettes are designed and manufactured in Portland, Oregon. The Matte Black, Gloss White, and Satin Gray are $48 each. For more ideas, see 5 Favorites: Gifts for the Brew Enthusiast.
Above: From Danish designer Niels Hvass, the Grill Set (a fork, spatula, and tongs) is made from stainless steel and FSC-certified solid teak wood (a weather-resistant material); $125 from Design Within Reach. We're talking tools over on Gardenista today; for more barbecue, woodworking, and hand tool sets see our post 10 Easy Pieces: Indoor/Outdoor Tool Sets.
Above: LA-based Brendan Ravenhill's Bottle Opener uses one magnet to capture the bottle cap and one to hold the opener to the fridge. Available in walnut or beech wood and four different color blocking combinations; $14 each through Areaware. Read more about Ravenhill in our previous studio visit: Live/Work in Echo Park: A Designer at Home.
Above: Everlane's recently introduced Pool Towel is 100-percent cotton terry and made in Deznili, Turkey; available in navy or white for $40 each.
Above: Because Dads need a spa break too, Aesop and Mr Porter's collaborative Dapper Gentleman grooming kit is comprised of a face cleanser, hydrating cream, shaving serum, spray-on moisturizer, and lip cream; $150 from Mr Porter.
Above: From Milan-based leather company Il Bussetto, the iPhone 5 Leather Case is made from vegetable tanned leathers that are waxed and buffed to achieve their color; $68 from Wittmore. And for the cigar-smoking dad, Il Bussetto also makes Cigar Cases in the same tanned leather.
Above: The Joey Roth Compass is made from laminated maple and East Indian rosewood for $75 directly from Joey Roth.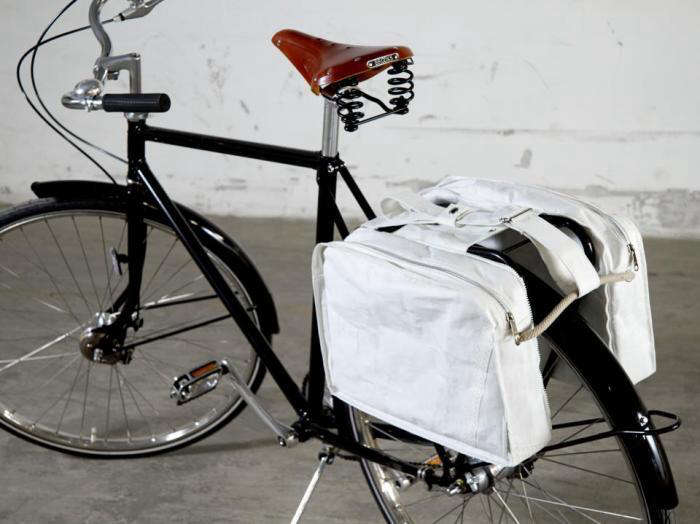 Above: From Save the C in Finland, the Do Laptop Bag is made from reclaimed sails and sustainable materials; for retailers, visit Save the C; in the US, Save the C bags are available from Ivana Helsinki in NYC. See more bags from our post: Bicycle Bags from Save the C.
Looking for more ideas? Shop bags, accessories, and men's clothing in our Personal Style shop section.
You need to login or register to view and manage your bookmarks.