Actress Julianne Moore recently sat down with Belgian architect and designer Vincent Van Duysen for a chat in her NYC kitchen. "He's my absolute favorite designer," she says. "He's been tremendously inspirational to me. I literally steal from him, and he knows that!" Read on to learn Van Duysen's take on everything from his three essential, can't-live-without objects to his views on Belgian aesthetics.
Julianne Moore: The Belgian look, which I think you really fostered, has become very popular in the US. What do you think about that?
Vincent Van Duysen: When it comes to Belgian architecture and design, there is one person I need to mention: Axel Vervoordt. He's a colleague and a friend, and he's one of the protagonists and founders of the Flemish style. Belgians, and especially Flemish people, they are very individualistic. Aesthetics is in our DNA. We inherited a lot from the past–we have great painters and a history of craftsmanship and linens and carpets and solid wooden furniture and earthy colors.
JM: Your work has a simplicity to it; I think you are that rare person who is able to tackle both architecture and interior design. That's why I was drawn to your work. I love Axel Vervoordt, but he is much more of a classicist than you are. I feel like you put the Belgian aesthetic through a modernist sieve.
VVD: It's all the art of living. Academically, I was trained as an architect. But I am not a mathematical architect, I am an intuitive architect. I'm not one who says, "I want to predict a new way of living." I'm not the visionary who wants to tackle large-scale urban enclaves. I'm a little conservative; I would rather go to the essence and the art of living.
Above: "Even if I'm designing an interior or a product, it's still architecture-related," says Van Duysen. "I call it a 'red thread' running through my work–a timelessness that has emotion. There's an authenticity. An essentialism." Photograph of Van Duysen's kitchen with La Cornue range and his Pottery Bowls via Suite NY (prices start at $280), available with oak or walnut tops.
JM: Who and what are your greatest sources of inspiration?
VVD: I'm not a fanatic person who has a "single, ultimate source of inspiration." I believe for me, daily life, daily encounters–this is what inspires me the most. And my travels. Over the years, I've traveled to Mediterranean countries and Morocco and to destinations where people live with primary forms and habitats–you'd have an adobe here, mud architecture in Morocco, and the simplicity of the Greek Islands. This really fascinates me, and blending all the sources of inspiration makes me who I am. I'm a sponge; from the moment I wake up, I'm a very curious person.
JM: That doesn't surprise me. What's your all-time favorite room?
VVD: My living room.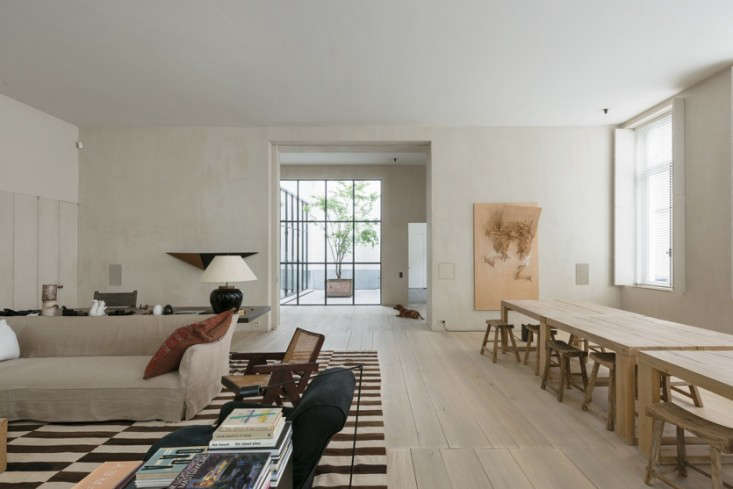 Above: Van Duysen's celebrated living room in Antwerp is minimal but not monastic. A pair of Atelier Tables that he designed for St.-Paul Home anchors one side of the space. The sofa is from Axel Vervoordt and the teak armchair is by Pierre Jeanneret. Photograph by David Spero for the New York Times.
JM: I feel like you provide so much context for living, but you make the human being primary. There is so much beauty and simplicity and texture that you feel in your spaces, and then life brings color and vitality. If you could live with only three pieces of furniture and three objects, what would they be?
VVD: [Gasp] That would be a table, a chair, and a bed.
JM: Three objects?
VVD: That's a difficult one. I would say a glass, but you can drink from the bottle, I suppose.
JM: I like how you think!
VVD: A toothbrush?
JM: What do you need to have?
VVD: Ridiculously, I am against it, but it's my mobile. You can do everything with it. I wish I could live without my iPhone, but I don't think I can. It's not poetic.
JM: So you're in a house, you have nothing. You have a chair, a table, and a bed. And an iPhone, which is modern. How are you going to eat?
VVD: With my hands?
JM: Something to drink from? If you had a bowl, you could also drink from it.
VVD: That's possible. It's hard!
JM: It makes you reduce everything, and life's not– Even if you eat with your hands, wouldn't you want a spoon and a bowl? I would want something to drink from. I would want a bowl. I love bowls. I don't want to lead your answers, but I would say a bowl, a candle, and a phone?
VVD: The phone kills the poetry.
JM: OK, maybe a bowl, a candle, and a basket (I love baskets)? Do you throw things away or do you keep them?
VVD: I can throw away.
JM: Me too. Is there anything you're sentimental about?
VVD: I have this little yellow vase in my house; it's the last object that my best friend bought before he died. It's Belgium ceramic, a little vase he found at a flea market. And this little object I am sentimental about.
JM: What wall color is unfailingly flattering? 
VVD: For me right now, it's a bone color.
Above: The walls in Van Duysen's Antwerp home are painted a chalky bone shade. Photograph by Juan Rodriguez.
JM: My walls are bone. I agree. I think you have to have enough white, but not too much that the rooms look stark.
VVD: Or charcoal gray.
Above: Van Duysen recently designed the apartment at Graanmarkt 13, in Antwerp, which is available to rent.
JM: What's your favorite shop in Antwerp?
VVD: Graanmarkt 13, an amazing shop. I designed it. It's actually a shop, a gallery, a hotel, and a restaurant.
Above: A bathroom at the Graanmarkt 13 apartment.
JM: What are some of the hardest design lessons you've learned?
VVD: I don't like the word "lesson," but, in general, what really bothers me the most is the lack of integrity in design. You know, it's all about consumption–forms and mannerisms and fashion. Where is the honesty and integrity of the design?
JM: What is your dream project or dream client?
VVD: People are asking me this all the time. It could be a hotel or a museum or a gallery, but it could also be just a shelter, a home by the sea, in nature, away from everything.
JM: Tell me about your earliest interest in design?
VVD: I think my first interest was my own first home. When I returned to Antwerp after living in Milan for a few years, I purchased a loft. The work I did on it was challenging; that's where I could say, "This is me." After architecture school in Ghent, I lived in Milan in the 1980s and worked for Ettore Sottsass–I was a kid of postmodernism. Eventually, I became overwhelmed by colors and forms. I wanted to go back to my roots; I was fascinated by pure, essential forms.
JM: What's your design process like? How does it start?
VVD: I spend a lot of time initially in a dialogue–I want to know what people are looking for when they contact me, whether it's creating a piece of furniture or a house or a shop or an office project. Getting to know my client, as a person, and their environment and budget–that's how I begin.
Above: The hearth at the Graanmarkt 13 apartment.
JM: Is your childhood house reflected in your own look?
VVD: No, not at all. But my dad was in the carpet industry, and I was influenced by that. I loved these primary forms and authentic uses of materials and linens and fabrics, flax or linen carpets.
JM: How do you stay sharp, mentally and physically?
VVD: At this moment, cardio and fitness; plus, I am following a mindfulness training, so while everything is focused on the body, I'm also training my mind.
JM: What would people be surprised to learn about you?
VVD: I want to surprise people with my work and even surprise myself. Every project is customized and tailor-made–it's all new and each project presents new challenges, but there's that red thread running through my work.
JM: You don't just want people to be surprised by you–you want to surprise yourself. That is really lovely.
We've been tracking Vincent Van Duysen for a while now; see Architect Visit: Vincent Van Duysen Kitchens and Architect Visit: Vincent Van Duysen in Antwerp; one of our favorite recent projects is Black and White Grandeur from Vincent Van Duysen.
See Julianne Moore's introduction to the Remodelista book and have a look at her own Vincent Van Duysen-inspired kitchen remodel in Behind the Scenes: 5 Design Lessons from Julianne Moore. And check out the room in its former guise in Steal This Look: Julianne Moore's West Village Living Room. On all of her interiors, she works with Oliver Freundlich Design.
(Visited 69 times, 2 visits today)