Clothing designer Erica Tanov began her business in New York toting a suitcase with six pieces of lingerie inside made from handkerchief silk. "There was no business plan," she says, "it was very loose—I was just doing things I liked."
At the time, the recent Parsons School of Design grad had gone to work for designer Rebecca Moses, an outfit small enough that she found herself quickly becoming familiar with all aspects of the design business. "I appreciated the art of fashion, but I became disillusioned by the whole Seventh Avenue fashion scene," she says. She left to work on her own line of bras, chemises, and slip dresses: in short, the pieces that formed her collection in the suitcase. When a large order came in for her lingerie, she realized she was in business. The Northern Californian native returned west in 1994 because, as she notes, "I was so saturated with fashion and wasn't feeling inspired; it was more refreshing to come back here." She built her line to a full ready-to-wear collection, but the delicate silk slips from her initial line are still a mainstay. Like much of her work, they have a timeless quality; Tanov's skill lies in creating pieces which are less about fashion and more about the quality of the fabric. As she puts it, "It's not just designing clothing, it's creating the whole mode and feeling that completes the picture."
Photography by Mimi Giboin for Remodelista.
Above: Erica standing in front of the bronzed wall of her Marin store in an Edo top in pink railway tapestry ($345), one of her own designs. When she's not wearing her own pieces, she's a fan of Megan Park's clothing.
Above; On her wrist, gold bracelets by Argentinian jeweler Maria Scalise. The silver bracelets are from East Coast jewelry designer and silversmith Sarah McGuire. On the other wrist, what looks to be a bangle turns out to be an elastic hair tie.
Remodelista: What are you working on now?
Erica Tanov: I am on Spring 2013. For this current season I worked with local artist Emily Payne and created relief patterns of her work which I had printed on fabric. And I'm working with prints from artists at Creative Growth (the Oakland Art Center that serves adult artists with developmental, mental, and physical disabilities). It's so inspiring collaborating with people and so much more fun.
Above: A tassel necklace from Aleishall Girard Maxon (granddaughter of textile designer Alexander Girard). Aleishall began selling her pieces when she worked at the Erica Tanov New York store, and the two have collaborated ever since. The necklace is available at Erica Tanov for $200. To see more of Girard Maxon's work, go to Studio Deseo.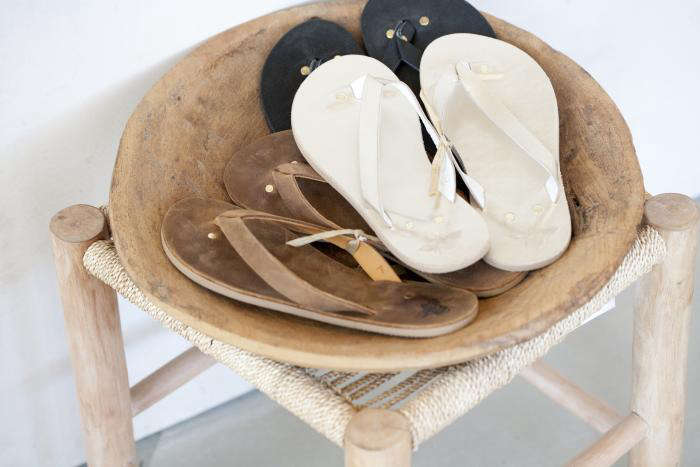 Above: in the bowl are leather sandals from Abejas for $88.
RM: On your feet?
ET: I love flip flops, especially the cheap $5 ones from the local store. I also like to wear Roberto del Carlo and Chie Mihara.
Above: White sheep fur throw; $1,850 at Erica Tanov.
RM: Currently coveting?
ET: I really like this white sheep fur throw. I would put it on a bed. I prefer luxurious things that don't scream expensive. It doesn't have to look like it cost a million dollars even if it did. It's about the mix of things; it's a balance and blend.
Above: Makeup bags by Shawn Burke, our go-to makeup artist. The bags are $120 to $205, depending on size.
RM: Makeup essentials?
ET: My lipstick is by Julie Hewett in my favorite color Amelie; unfortunately they don't make it anymore. Shawn gave me the last stick. (Serge Lutens makes a similar color available at Barneys called Mauve de Swann; $75). I use a Laura Mercier mascara (the Long Lash is $24 from Sephora) and a powder blush called Shadore Pure Powder Glow by Kevyn Aucoin; $37 from Amazon.
ET: I also use Rodin Face Oil; it's the best you can do for your skin. It's made by Linda Rodin, a model turned stylist. She uses 11 essential oils with a jasmine base; $150 from Rodin. Shawn also turned me on to the Japanese brand Komenuka Bijin I use their hand cream, face cream, and cleanser.
Above: Natural all-healing perfumes by Perfumera Curandera, created by Leanne Hirsh, who spent 18 years in the Amazon forests. Available at Erica Tanov.
RM: Scent of choice?
ET: "I am working with Lurk in New York, a company that make essential natural oils, to create a custom scent based on boronia. I discovered it in a nursery and loved the smell. Boronia is a shrub with a burgundy flower and a chartreuse inside; it only blooms for two months. It's intoxicating and fresh, not super floral. I though I could use boronia on its own, but it turns our that you can't just have one scent for a perfume, it needs to be a blend. It's really fun and exciting doing this; the key is to work with people you love, that's the point."
RM: What's next?
ET: I would love to work on a hotel project, to create an experience. I don't stay in a lot of hotels but I feel when people stay somewhere they should feel surrounded by beauty. They should fell pampered but not in an uptight glaringly expensive way—it should be sumptuous and feel good.
Ed. Note: We think Berkeley's Claremont Hotel would make an excellent first project. Also, Erica Tanov is holding a book signing on Saturday, June 30th, at her Marin store with Ngoc Minh Ngo, for her book Bringing Nature Home. (Erica's house appears in several of the photographs.)