The designers of the movie Her added a decidedly vintage feel to much of the futuristic technology on the set. Computer monitors are wrapped in wood or canvas, and the smartphone that Joaquin Phoenix carries with him is modeled after the beautiful and tactile address books and cigarette cases of yore. With all the sleek and slim technology in our lives, is it warmth we're after? Or maybe, as Magno Radio designer Singgih Kartono believes, using natural materials will help build a closer relationship between user and device. 
Here are 12 accessories to add warmth to your cool electronics. 
Speakers
Above: The classic transistor radio interpreted in wood: the individually handcrafted Magno Small Wooden Radio IKoNO has a two band (AM and FM) receiver and can be connected to most Mp3 players; $225 at A+R.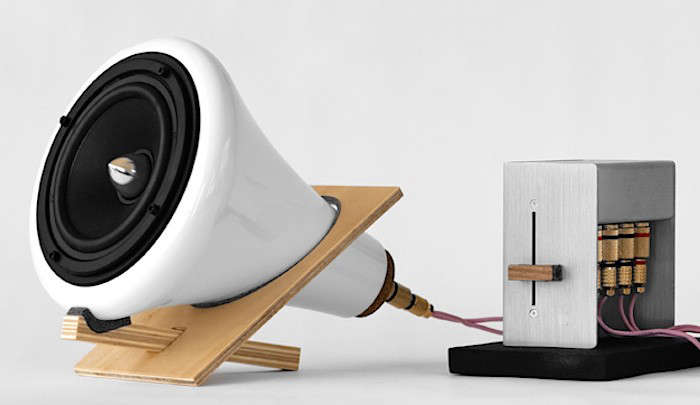 Above: Joey Roth Ceramic Speakers are made from porcelain, cork, and Baltic birch. The materials are minimally finished by design; $495 for a pair speakers and an amp.
Above: The Liberatone Zipp Airplay Speaker is a wireless portable speaker cloaked in an Italian wool cover that comes in several colors, including salty gray (shown). It works with iDevices, Mac/PC, and Android devices, and is $366 at Amazon.
Above: The small beech Formnation Wood Speaker has a bright red cord that fits into any auxiliary headphone jack and can be charged for five hours of portable play; $40 at MOMA Store.
Chargers 
Above: The Orée Powersleeve is a protective smartphone cover crafted of wood and leather. It pairs with the Orée Pebble (available in wood or marble) to create a wireless charging pad for the iPhone 5, iPhone 5S, and Galaxy S4; €90 for the cover and €110 for the charger. To see more from the line, go to Cord-Free Living: A Good-Looking Wireless Charger and Other Breakthroughs.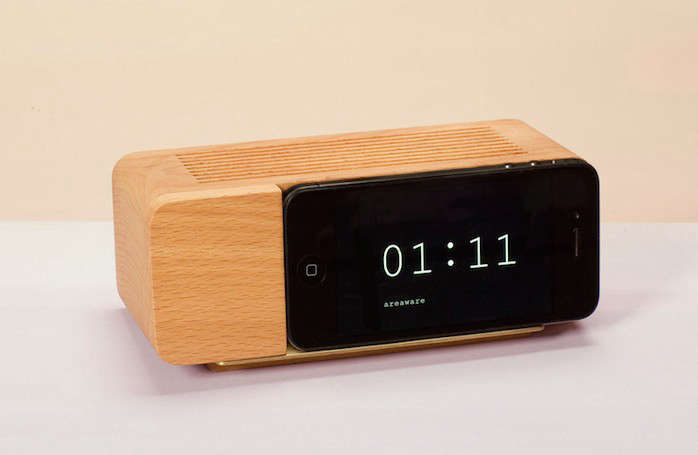 Above: A design that mimics the plastic clock radios of the 1970's, Areaware's Alarm Dock is actually a charging spot for the iPhone 5 (a version is also available for the iPhone 4). Run a flip clock app and your charging phone becomes a digital clock; $38 from Areaware.
Above: The Koostik Dock 5 for the iPhone is a simple docking station available in a variety of solid woods including white oak (shown); $25.
Above: Areaware's Radio Dock is a radio in looks only. Your iPhone connector can be pulled through the dock, allowing your device to recharge while you run a radio app to recreate that old sound via your phone's own speakers; $40.
Covers 
Above: The Wool Felt and Leather MacBook Pro Sleeve is crafted of gray felted wool with leather snap closures. The sleeves are also available for the iPad, iPhone, and MacBook Air; $82 from Byrd and Belle's Etsy Shop.
Above: Woodchuck's iPad Wood Skin is available in birch (shown), walnut, and mahogany (and made for other laptop models, too). Fabricated in Minneapolis of locally sourced wood, the skins adhere to the device with a non-residue adhesive to protect from scratches, and are $39.99 each.
Above: From Woodchuck's Traveler Series, the Wood and Wool iPad Sleeve pairs cherry wood with all-wool felt, and has two pockets for accessories and chargers; $99.99.
Keyboard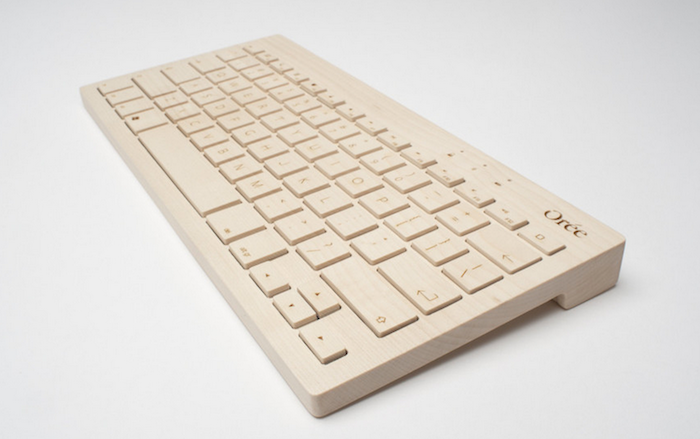 Above: Carved from a single piece of wood, the Orée Wooden Wireless Keyboard is available for MAC or PC. Each keyboard is customized to order in maple (shown) or walnut, and comes with a choice of font styles and the options to add a decorative pattern or slogan; €150.
Is technology threatening to takeover your home? See 10 Ways to De-Clutter Your Tech Experience and 10 Tips for Keeping Tech in Check, Family Edition. Meanwhile, on Gardenista they're using Gardening Books as iPad covers.
You need to login or register to view and manage your bookmarks.