We're ready to gather by the fire–and let the competition begin. Here are the season's best small-batch games. And for artists and pacifists, there are blocks to build (and to display on coffee tables).
GAMES 
Above: The Casamidy traveling backgammon set features a handwoven saddle-blanket that comes in several tricolor combinations (custom requests are an option). It has leather game pieces and comes in a waxed canvas travel pouch; $400, including shipping. Go to Casamidy to see the company's full line of furniture and accessories, all made in San Miguel de Allende, Mexico. Write to [email protected] to place an order.
Above: Travel Checkers by Brooklyn artist duo Fredericks & Mae has a hinged board made of Baltic birch that holds its 30 magnetic playing pieces; $160. See more of Fredericks & Mae's reinvented games in our post Good Sport.
Above: The River Stone Tic-Tac-Toe Set from Schoolhouse Electric is the work of the Pi'lo Studio. It has a stitched canvas game board and smooth pebbles in two distinct shades of gray; $32.
Above: Moon Dominoes, another Fredericks & Mae design, replace the classic dots with silkscreened phases of the moon. The pieces are made of Baltic birch and come in a birch box, instructions included; $80.
BLOCKS 
Above: The Mini Facemaker Block Set by UK toy company Miller Goodman consists of 25 wooden blocks that can be configured into thousands of faces; $45 from Neo-Utility. Other variations are also available, including a colorful ShapeMaker set of blocks.
Above: Brinca Dada's award-winning Large Constructures add a new design element to building blocks: The pieces resemble windows. They're made of hand-finished beech and come in three sizes. A set of 51 pieces is currently on sale for $26.99 (marked down from $44.99) from Brinca Dada of NYC.
Above: Puzzlehead is the work of New Yorker cover illustrator and children's book author Richard McGuide. It comes in a small version (shown here) for $20, and a larger one for $40 from Areaware 
Above: Coming next: Blockitecture Series 1: Brutalism, a create-your-own cityscape designed by James Paulius that will be available this spring from Areaware.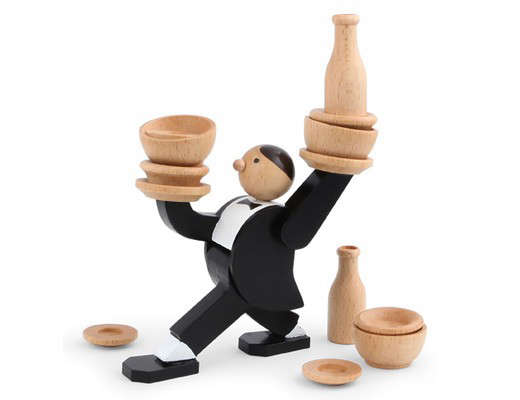 Above: Don't Tip the Waiter by Chris Collicott is a simple stacking game: pile on the dishes and don't be the one to make them topple. Good for one or two players, and recommended for ages six and up; $25 from Kikkerland.
Get more ideas at 10 Easy Pieces: Building Blocks for Children. And go to Fait La Force for a hand-stitched indigo checkerboard with horn pieces made in Haiti.
Expecting snow? Take a look at the Ultimate Sled.
(Visited 35 times, 1 visits today)