New from Seattle-based Ladies & Gentlemen: the elegant Ovis lounge chair, designed in collaboration with textile designer Ashley Helvey and made of wooden dowels, brass and copper tubing, and hand-felted Navajo wool.
We've been following the work of Jean Lee (the lady) and Dylan Davis (the gentleman) for a while now, and when we heard they had collaborated with Ashley Helvey, we were curious. "This is our first collaboration," Jean says. "We pored through vintage books for inspiration and threw a few ideas around. It was really exciting and synergetic as we found ourselves drawn to similar things. We think the end result highlights our collective sensibilities: simple, organic, structural, with a hint of playfulness." We could not agree more. Stay tuned for information on pricing and availability; to learn more, go to Ladies & Gentlemen. To see Ashley's work, go to Ashley Helvey.
N.B. Interested in seeing more? Ladies & Gentlemen will be joining us at Dwell on Design.
Above: The Ovis lounge chair with the O side table made from poplar and metal.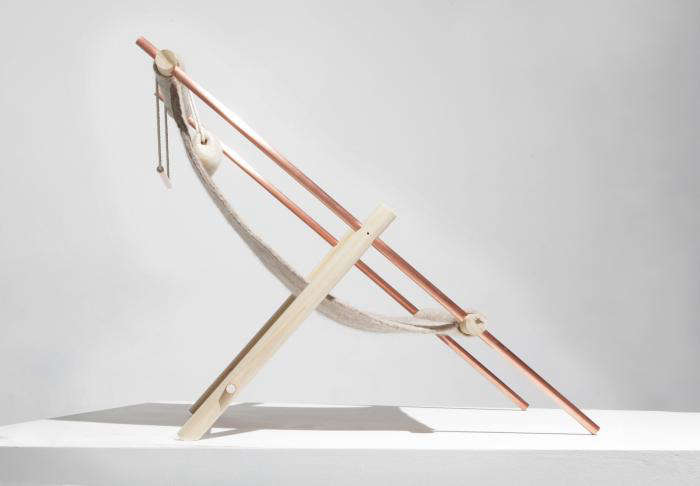 Above: The Ovis Lounge is made from wood and copper tubing with felt seating. The chair will also be available with leather slings.
Above: Ashley Helvey's hand-felted Navajo wool with a cushion kept in place by a copper dowel.
Above: A suspended version of the chair: the Ovis Hanging Lounge with brass dowels.
Above: A rope fringe hangs from each corner of the suspended chair.