Are you a fan of Vipp waste bins? We are (several of us at Remodelista have them in our bathrooms), so we took notice when we learned that the company has branched into modular kitchens. Should Bulthaup be worried?
Synonymous with superior mechanics and design, Danish company Vipp (a company founded in 1939 with a single pedal bin) is launching a range of kitchen modules made of stainless steel and available in several sizes and configurations. The Vipp kitchen is currently available through the Vipp Flagship Store in Copenhagen. Not in the market for a new kitchen? Vipp also offers shelves and a range of kitchen tools shown below.
Above: A freestanding Vipp kitchen module in white compliments a classic Vipp 15 Waste Bin ($319 at Lumens).
Above: Vipp Kitchen Furniture is available in black (shown) or white and is made of high quality stainless steel.
Above: Made of powder-coated aluminum shaped into a U-form, the new Vipp 921/922 Shelf is mounted with an invisible bracket that creates the impression of a floating shelf. Available by late August in two sizes in white and black; €149 and €249.
Above: The kitchen unit in black.
Above: A detail of the powder-coated shelf.
Above: To keep the high level of functionality and consistency of design, Vipp Kitchen Furniture incorporates fixtures, drawer pulls, and cook tops of their own design.
Above: The sink includes a Vipp designed single handle faucet.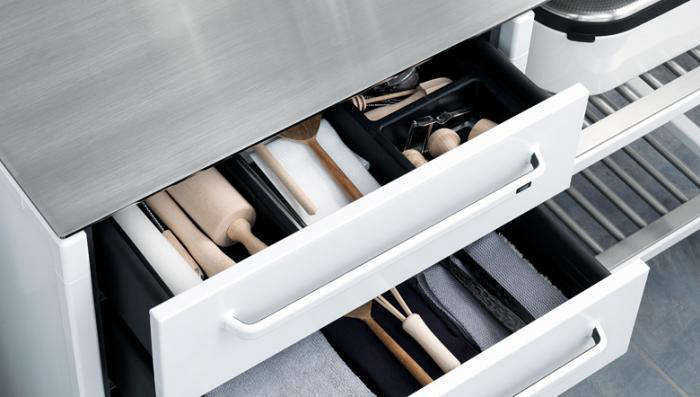 Above: Drawer handles and interiors designed by Vipp.
Above: Vipp designed the kitchens to function as "the home's workshop"; with tools to match; the collection includes the Vipp Bread Box with small holes for ventilation; $199 at Design Within Reach.
Above: The Vipp 263 Salt and Pepper Mill feature swivel tops in solid stainless steel. With a durable and adjustable ceramic grinder, the mills sit in a painted aluminum base with rubber inserts; $189 at Horne.
Above: The Vipp 280 Dishwashing Set includes a brush, hanging bracket, and dish cloth. The brush has a stainless steel core encased in soft silicone rubber with an embedded strap, as well as a replaceable brush head; $59 at Horne.
Above: The Vipp Soap Dispenser is available in black, white, stainless, and the 2012 Vipp color: Copenhagen green; $119 at Design Within Reach.
(NB: Vipp fans see our earlier post Bathroom: Vipp Accessories for more ideas)