For the past few months, I've been one of the many avidly following @mamoesjka_nl on Instagram. The feed is the work of Ilona Zieltjens, a 34-year-old Dutch mother, blogger, and serial remodeler who chronicles her home's many palette changes and rearrangements ("If I haven't painted anything for a few weeks," she writes, "the paint tins literally call to me from the closet.")
Completely self-taught in design (she trained as a hair stylist), Ilona has an appealingly restless creative spirit and uses her own rooms as her test lab. She and her partner, Daniel Polcyn, a barber, have been together since she was 16 and he was 17—"he moved onto the same street as my best friend"—and have two sons, Tycho, 13, and Fender, 7 and two small dogs, Benjamin and Bloeme. They live in Tilburg, a city in the province of North Brabant, and after years of saving, were able to buy a former housing association rental house built in 1969 and in much need of an overhaul. Come see the way it looks now.
Photography by Illona Zieltjens of Mamoesjka.
After three months of hard labor (including vanquishing a colony of mice living in the first-floor ceiling), Ilona was able to get out her paints. She applied an all-white palette throughout, which has served as a canvas that she continually tweaks. She uses Stralend White from Dutch brand Flexa, which she says is akin to Farrow & Ball's All White. Shown here, her black-and-white-checked entry hall and  living room. The rattan trolley is the Olli Ella Luggy; $75 from Maisonette.
She sources all of her furnishings from small makers and flea markets: "It's so much more fun to make independent enterprises happy by purchasing some of their products than to get something at a large retail chain." To afford the next, she sells her castoffs on Instagram @Mamoesjka_shop, a word-of-mouth private account worth discovering.
The curved beechwood design on the floor is another piece that makes the rounds: It's a Wobbel, €89, a balance board and more.
"I scraped off all of paint splashes from the floor with a spoon and scrubbed it with a sponge like Cinderella," she writes. "Note to myself: Fill in all the holes next time."
The plywood Aki Low Stool, €79, is by husband-and-wife Dutch workshop Woodchuck. On Instagram, Ilona has become part of an international community of creatives, such as Woodchuck, who cheer each other on and display each other's work. Thanks to her popularity, she's now asked to cover products, but says she "only writes about items where I am literally jumping with enthusiasm."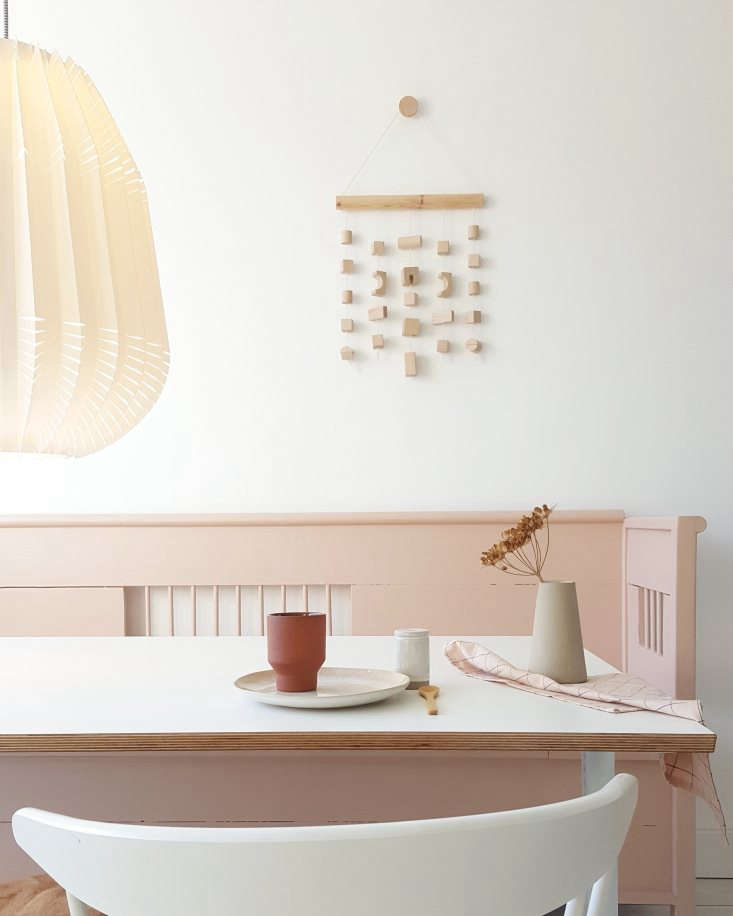 For tips on kids' room design—and more swings—see Living with (Four!) Kids: Ideas to Steal from Tessa Hop's Organized and Serene Home.
She made the hanging hoop from parts found at a hobby shop: She stained the wooden beads by "rubbing them like meatballs in my hands" with a dark oil. The hanging oak light is The 25Lamp, €225, from the Kovac Family.
Here are three kindred spirits and fellow Instagrammers: