Will Fisher, founder of antique and reproduction house Jamb Limited, is known around London as the antique dealer with an eye, which he applies artfully not only to furniture and objects but to the elegant, spare spaces which they inhabit. His newly expanded showroom on Pimlico Road in London embodies his grand aesthetic that speaks of another time as much it speaks of today. We recently caught up with him there to get his tips for creating grandeur in the home.
Above: Dr. Oliver Bronson's House, an important "©survivor "©from "©the"© Picturesque"© era "©in "©America architecture located in Hudson, NY, displays a faded grandeur behind its layers of peeling paint and wallpaper.
Remodelista: Your spaces are filled with an Old World yet comfortable grandeur. How do you bring this about?
Will Fisher: The key to success is faded grandeur. The suggestion of a slightly tiered gilded surface hidden under layers of grime; a flamboyant painting bowing under the weight of its own surface! Furniture and objects need to look as if they have grown roots they have been in situ so long. A room should have a sense that it has evolved with time, grown with its occupants or generations.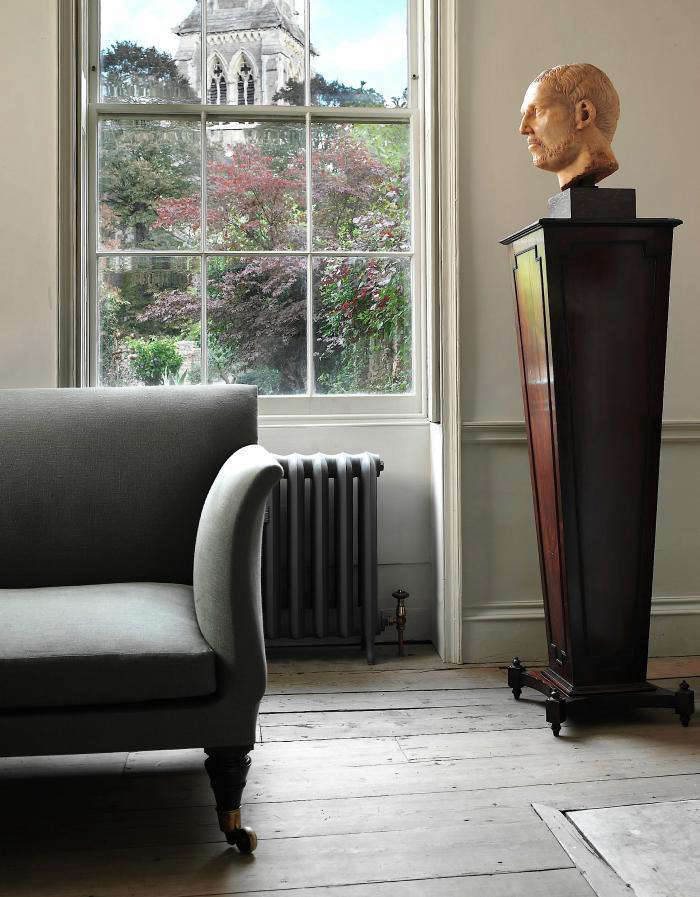 Above: A classical head on an overscaled base lends an air of stateliness to Fishers' home. Photograph by Simon Upton.
RM: Does scale play a significant part in your work?
WF: I have always loved overscaled objects. Architectural monumental bookcases at the back of rooms which loom over their surroundings like a Roman sky line. Vastly deep sofas give a sense of luxury whilst monumental sculpture adds an unsurpassed grandness.
Above: Fisher has painted Jamb's new showroom in soft colors which provide a quiet back drop to his antique furniture and chimney pieces. Photograph by John Hammond.
RM: How do color and materials come into your work?
WF: Color is probably one of the most important factors in creating the right ambience. I tend to favor soft colors that give a quiet backdrop to the surroundings; however vibrant colors and different materials can work exceptionally well. Spanish 18th-century embossed leather and Chinese painted wallpaper both give a rich layer and a sense of grandeur.
Above: Antique dealer, Will Fisher flanked by two key pieces in his living room, an overscaled monument and an antique chimneypiece. Photograph by Simon Upton.
RM: What are the basic requisites to creating a grand, glamorous and comfortable space?
WF: Always start with the chimneypiece , this sets the scene and the entire tone of the room from which to work.
Above: A low ceiling room can take on an air of grandness with an authentic chimneypiece, antique floors, and a quiet ceiling cornice. Photograph by John Hammond.
RM: I live in a small modern townhouse with no historical details and 9-foot-high ceilings.  If I came to you and said I wanted to create grandeur without artifice, what would you advise?
WF: Firstly, I would focus on the fireplace and moldings. Change the fire surround to one that suits your desired aesthetic and install a ceiling cornice that looks quiet but formal. Change the doors, door moldings, and skirtings; and then install an antique floor. The stage is set!
Above: A view of Jamb's new showroom showing Fisher's artful mixing of new and old. Photograph by John Hammond.
RM: Steeped in the world of antiques, the grandeur you help to create is imbued with history.  Do you think it's possible to create glamor and grandeur from new things without being too "shiny"?
WF: It's all about surface and mixing new and old. In this day and age there is no excuse for new things to be too "shiny." I love creating environments that are entirely our new line but appear authentic in every way. It is a challenge but extremely satisfying when a room looks entirely plausible.
Above: A set of Roxburghe armchairs from the period of George II.
RM: What is the one item that you think would instantly imbue a room with grandness?
WF:  A George II Roxburghe armchair which is a gilt wood and upholstered open armchair circa 1740, simply because it exudes pure decadence.
See how Will Fisher practises what he preaches in At Home with London's Antiques Whisperer or in An Antiques Collector at Home in London.
You need to login or register to view and manage your bookmarks.