Jessi and Jennifer Singh are Melbourne restauranteurs with a sense of humor. Horn Please (one of their three local establishments), is an Indian canteen in the suburb of Fitzroy North named after the slogan hand painted on the hatchback of vehicles across India (horns are used to signal passing on narrow roads). Chef Jessi Singh, who grew up in a village in North India, serves up Indian street food–curries, naan from the tandoor, and homemade kulfi–in a playful, airy dining room full of portraits from India, Hindu proverbs painted on the walls, and, yes, horns–but please refrain from honking. 
Photography by Hilary Walker. 
Above: "Not you typical Indian joint," proudly note the owners. An outsized portrait and Hindu wall script decorate the airy bar area. Pendant lighting with neon fabric cords hangs above the sleek wooden counter. 
Above: Hot pink Tolix stools stand out against the bar's blue and white tiles. (Have you heard that Tolix just introduced its first new design in 80 years? Take a look.)
Above: A wedding portrait decorates a wall and reappears as the menu cover. Plants hang from colorful macrame hangers–and here's how you can make your own DIY Macrame Hanger.
Above: Pink horns are placed on top of the bar. Local artist Rebeccah Power painted the portraits that hang throughout the eatery.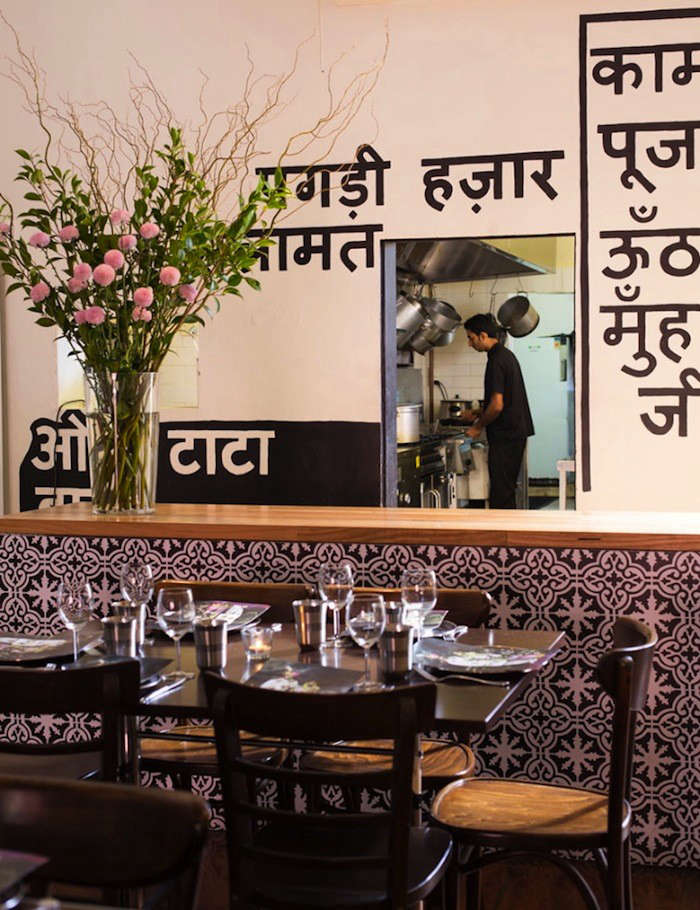 Above: Artist Power also hand painted Hindi proverbs o the bar wall leading into the kitchen. 
Above: Some walls are adorned with Indian studio portraits that the owners collected during numerous trips to India. Some of the tables are long enough to be communal.
Above: Bollywood films are projected onto the white walls at dinner time.
To learn more, go to Horn Please.
Does your heart skip every time you see an accent of hot pink? Ours does. See Michelle's Ode to Pink Mohair Throw Blankets. And here are some Sherbet Shaded Pillows made by Indian artisans.
You need to login or register to view and manage your bookmarks.