Dunja Von Stoddard describes the remodel of her 1880s farmhouse in Rhinebeck, New York, as "an epic journey of demolition, construction, and reconstruction involving a squirrel-infested wall, jackhammers, and the complete removal of one end of the house."
And when her rooms were finally ready to be furnished, Dunja, a textile designer from Vermont, discovered that having "an eye for art and cool things is a very different skill set than conceptualizing the look of a home." Fortunately, she had hired Kathryn Whitman of design-build firm Quatrefoil as her architect, builder, interior design consultant, and voice of reason. "I like to believe that our work together was a collaboration, that the finished design was a meeting of our combined creative minds, although truthfully most of the time Kathryn came up with a brilliant design idea while simultaneously having to reel me in from some crazy notions."
Three years later, chez Dunja (pronounced doon-ya; "it's a Slavic name; my hippie artist parents got it from a folk singer they knew") is the family homestead, studio, and business headquarters she set out to create. And its rooms, we're happy to report, are both well composed and filled with signs that a textile designer given to crazy notions is in residence.
Photography by Jim Franco, courtesy of Dunja Von Stoddard.
The House
The room required a lot of structural work: "Sometime during the Reagan administration, the owners decided to build a chimney and fireplace smack in the middle of the space," she says. (Take a Before look here.) Her crew removed the fireplace and drywall, and introduced the built-in shelves and firewood hutch. The flooring was faux-wood laminate over wide pine boards that weren't salvageable—so Dunja's team laid new pine floors throughout: "Oy; that's all I have to say about that."
Dunja kept a renovation diary on her blog, Doonyaya, and writes that she hewed to the following rules:
Everything in my home has to be something that I love because life is too short to be surrounded by ugly.
I must strive to fill my home with objects that have associations with people that I like/love/respect or who inspire me.
Every room must have at least one item designed by me as a reminder that I, too, am fueled by creativity.
Next she introduced hints of hot pink, "because hot pink makes me happy." That's a pair of Bertoia chairs brightened with a powder coating by Etsy seller Cast + Crew of Marfa. Dunja screen-printed the chair pads. She traded a table for the tree print by her friend Zoe Bissell of Formed + Found. "As for the rest of the room," she says, "the motto was 'Paint it white.'"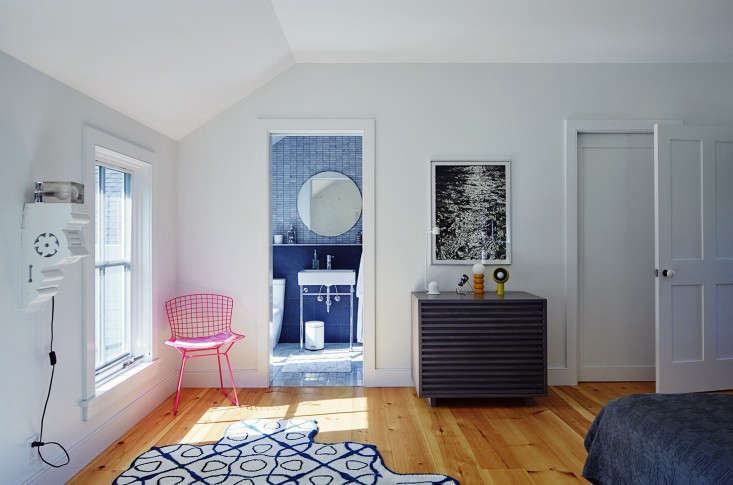 The Studio
In nearby Hudson, New York, tour cult ceramic artist Paula Greif's Combination Living Quarters and Shop.
N.B.: This post is an update; the original story ran on October 26, 2015.
(Visited 658 times, 1 visits today)