Once July comes along, it seems as though everyone you know is running off to a fantastic rental that they lucked upon via a friend of a friend. You want in. But with all the online clutter, it's hard to zero in on that rustic Cape Cod beach shack or chic Parisian pied í  terre of your dreams. 
Here at Remodelista we've done our share of vacation renting (from shoestring to full-on luxury). We look for places with local character that are thoughtfully pulled together inside and out. It's a combination that's elusive but not impossible to come by, if you know where to look (and if you're careful to scrutinize the photos and details before signing on). Here are the rental sites that we turn to most often:
Above: Sarah's favorite source for Northern European finds is Urlaubsarchitektur. "This German company does a great job sourcing what they describe as 'architecturally outstanding houses,'" she says. The business was founded by German architect Jan Hamer, who decided he wanted his vacation rentals to be as well designed as his own home. Urlaubsarchitektur lists 297 properties, most tending toward the modern. If you're looking for somewhere to rent this summer, here's a list of houses that are still available. Photograph of an Urlaubsarchitektur house on the Danish Island of Mon from our post Vacation Like an Architect.
Above: Julie recently discovered luxury vacation rental site Homeaway, featuring higher-end offerings such as Parliament House, a restored historic Nantucket retreat.
Above: Julie also likes Unique Home Stays, a UK rental site that caters to travelers with specific interests, such as surfing retreats, eco rentals, and dog- and kid-friendly getaways. Photograph of the Selsey Beach House in West Sussex.
Above: Meredith and Alexa have both rented through Airbnb on many occasions, and all were great experiences. Alexa stayed in a small flat in the 15th arrondissement in Paris and recently in a two-bedroom apartment in Condesa in Mexico City; both were humble living spaces, clean, and just minimal enough. Meredith has booked Airbnb houses in Tahoe and Sonoma, and is about to stay in Airbnb places across Italy this summer, plus a house at Sea Ranch for the Labor Day weekend. "What I love is that Airbnb rentals are the antidote to sterile hotel rooms," she says. Photograph of a West Hollywood apartment designed by an architect at Commune and available through Airbnb, via Design Tripper.
Above: Another option is Haven in Paris, which lists luxury villas and apartments–and has expanded its reach to include London, Provence, and Tuscany. Photograph of the Eiffel Tower Loft in the 15th arrondissement.
Above: A resource for exotic locations, Spaces 42 offers rentals across Asia, Africa, Australia, and more. A favorite of Justine's is Dar Beida in Essaouira, Morocco (see the full interiors at Midcentury Modern Meets Medina).
Above: Izabella recently came across this Modern Houseboat in Berlin for rent through The Modern House site, and she's been perusing their offerings ever since. The site is all about architect-designed vacation rentals at affordable prices–everything from the aforementioned houseboat to St. Columbia's converted church in Scotland.
Above: Francesca has had both good and bad experiences with rental sites, and she cautions against agencies that list a banner property as a lead generator for other options–"sorry that's booked but we can offer you this property"–that are far less desirable. Two recent finds she recommends are Boutique Homes, with offerings like the Sea View Villa in Sicily, Italy designed by Maria Cannizzo (shown above), and Welcome Beyond.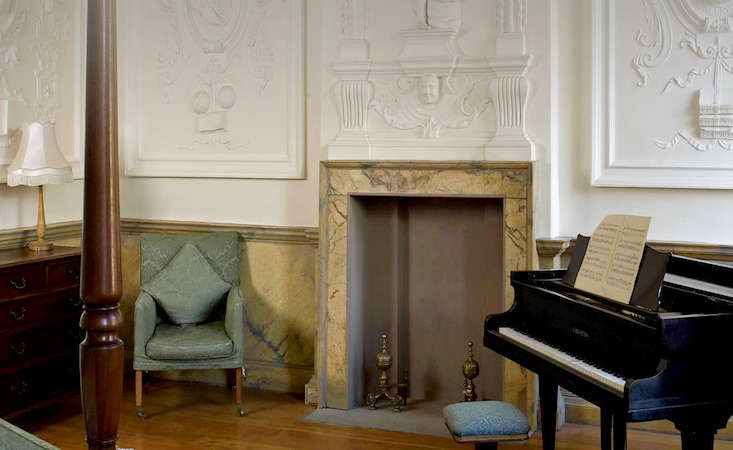 Above: While working as an editor at Travel + Leisure, Margot discovered the astonishing collection of historic rentals offered by the UK's Landmark Trust. "The Landmark Trust leases restored properties not just in Great Britain but in Italy and France. And there's a similar, smaller organization, the Landmark Trust USA, that rents Rudyard Kipling's family house in Vermont," she says. Also worth looking into: the UK's National Trust, "an organization offering holiday cottages in restored old buildings throughout the UK with names like Woolley Lodge. Hitch: the exteriors tend to look more charming than the interiors." Photograph of the Music Room in Lancaster, an 18th century garden pavilion from the Landmark Trust.
Above: Our group is of divided opinion about One Fine Stay (some of us have had good experiences, others not so great). That said, the site offers a wide range of luxury vacation stays across London, Paris, New York, and Los Angeles. Photograph of the Carriage House III rental in New York's Harlem.
Above: For those traveling as a family, Janet recommends Kid & Coe, a vacation site that "focuses on family-friendly rentals–those that also translate into liveable. And their options aren't limited to travelers with children," she says. Photograph of the Wouwermanstraat Residence in Amsterdam.
Above: Specializing in the rustic, boutique agency Luci Di Casa offers five large villas across Tuscany as well as two villas in Mexico. Photograph of the Domus Civita property in Civita di Bagnoregio, Lazio, Italy.
Above: Last year Michelle had great luck with El Sol Villas, a company focused on villas and vacation houses in Italy and Spain. She stayed in an apartment in Barcelona called Casp 74. "It was well priced, in a fantastic location, super clean, and the kitchen was outfitted with almost new appliances. Plus, there were great city views and a concierge office on the main floor where you could ask questions like: 'What's the best subway to take to get to the train station?' "
Above: Destination BCN is a collection of 15 apartments owned, designed, and rented out by Miklos Beyer and Anme Nijstad, a design-minded couple. Margot, who rented the company's Figi apartment, says, "In addition to being great looking–simple, modern, and impeccably clean–their places are detailed with art books, movies, Barcelona's underground cultural magazines, and annotated lists of neighborhood places worth knowing about. And did I mention that they have great little kitchens, plus washing machines and dryers?" Photograph from our post Live (of at Least Lodge) Like a Catalonian. 
Above: Christine is a fan of Living Architecture, a company that describes itself as "a social enterprise dedicated to the promotion and enjoyment of world-class modern architecture" (Alain de Botton is the creative director). Photograph of the Dune House in Suffolk designed and built by JVA + Mole Architects.
N.B.: All this week we'll be featuring design-worthy vacation houses in our Summer Rentals issue.
You need to login or register to view and manage your bookmarks.