A streamlined kitchen renovation with less hassle, wait time, and guesswork? That's the objective of NewAge Products, a company that provides premium remodeling solutions for any space and helpful planning tools to simplify the process from start to finish.
The company's one-stop, modular kitchen solutions include pre-assembled, quick-install cabinets and a selection of pre-configured sets, all ready to ship (so there's less lead time). Complete your design with NewAge's own granite countertops, backsplashes, sinks, faucets, flooring, lighting, and organization systems, all of which are designed to fit together with ease, no finger-crossing needed.
So much of the stress of renovation is in the planning, so NewAge also offers free planning tools to design your space and sort out a budget, whether you're embarking on a smaller upgrade or on a total-kitchen transformation. Use their kitchen builder tool to create plans and shop individual products, or choose from their turnkey kitchen sets, pre-configured for a variety of kitchen layouts. Option three: Connect with one of NewAge's  designers for a free video consultation to create 3D renderings, get quotes, and design a personalized kitchen for your space.
This month, we're teaming up with NewAge to give away $1,500 toward any of NewAge's kitchen systems or components. For your chance to win, enter here and follow @NewAgeProductsInc on Instagram before August 30th. UPDATE: Congratulations to Betty J. of Texas who is our winner!
In the meantime, here's a look at some of the contemporary kitchen components they offer.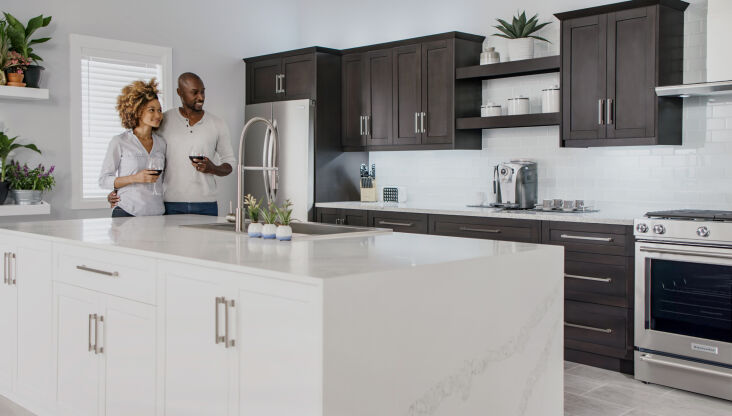 Don't forget to enter here and follow @NewAgeProductsInc on Instagram by August 30th for a chance to win $1,500 toward your kitchen makeover. Read the full terms and conditions here. And check out all our past winners.
Read more about the company's offerings in One-Stop Modular Kitchen Solutions from NewAge Products, and head to their site.
(Visited 15 times, 1 visits today)