I got to know one of my favorite designers, British-born, NYC-based Richard Ostell, on the internet. He left a comment on Remodelista a while back, and I sleuthed out his visual blog (this was pre-Tumblr days), where I spotted mysterious photos of unidentified interiors. I emailed him and asked him about the house; as I had guessed, it was his own Westchester cottage (see House Call: Richard Ostell in Westchester). Then, from time to time, Richard would email to say he had moved to a loft in Milwaukee (see A Brit in Milwaukee), or that he had moved back to NYC and was opening a shop (see Slow Design from Richard Ostell). And more recently, he wrote to say he was launching an interior design business ("It's about time!" I emailed back).
"My approach to interiors is the same as my approach to product design; simplicity, balance, proportion," Richards says. "I like space and calm, even in small rooms. I prefer interiors that have a relaxed feel, spaces that look cohesive but don't look designed or 'done'; that have a feeling of restraint and quiet. Environments that have a soul and reflect the owners' personality, objects that mean something, not bought to fill a gap. When someone asks me to design their home, the collaboration is what's important. I like to find out how they live, what they need from their homes, what space and calm and simplicity mean to them. The two houses here reflect my style very well, both are relaxed environments adapted to the owners' tastes and needs." For more information, go to Richard Ostell.
WESTCHESTER BARN
Above: "This house is all about the outdoors and space; it's a converted barn with 20-foot-high ceilings in the living area. I wanted you to walk in, let out a breath, and relax." Richard designed the Series 1 Wrapped Side Table, which is handmade in the USA of solid rift cut white oak with a tung oil finish; $850 from Richard Ostell.
Above: "Everything is white with lots of natural materials; brick, stone, wood, linen, cotton. The furniture is a mix of antiques, junk store finds, and my own furniture designs." Richard's sofa is Cisco Brothers' Stewart design slipcovered in their Quixote natural linen.
Above: The Lumina Daphine Terra Lamp was designed by Tommaso Cimini in 1975 and has been in production ever since; it's $540 at Richard Ostell.
Above: The white oak dining table and benches are his own design–Richard  hopes to be able to offer them commercially soon. "The home is accessorized with art and objects that have a personal history and relevance."
Above: "The floors are bare and the windows are left uncovered except for the bedrooms, where I used simple white blackout roller blinds." The king-size Summer Cover in Natural Orkney Linen is from Rough Linen.
WEST VILLAGE
"This townhouse in New York's West Village is owned by an art collector and his young son. He needed a refuge from the city where he could relax and entertain; a quiet space that would also stand up to a six-year-old and his friends. The whole house is painted in varying shades of taupe and grays, the owner didn't want white, so it was important to choose colors that harmonized with one other, that created warmth but also worked with his extensive collection of art. Although it is spread over five floors, the space if very open, so everything had to work together. It's an eclectic and harmonious look."
Above: "The linen-covered sofa is from Dmitriy & Co. The other furniture is either antique, custom made, or of my own design."
Above: "The style of the house and its location dictated a lot of the choices as far as lighting and fixtures were concerned. Everything had to have a timeless feel that worked with the furnishings and art. It comes back to mixing periods and styles, high and low to create a cohesive whole."
Above: "In the kitchen, we used Annabelle Selldorf's NG Escutcheon for Vica along with a pair of vintage French pendants."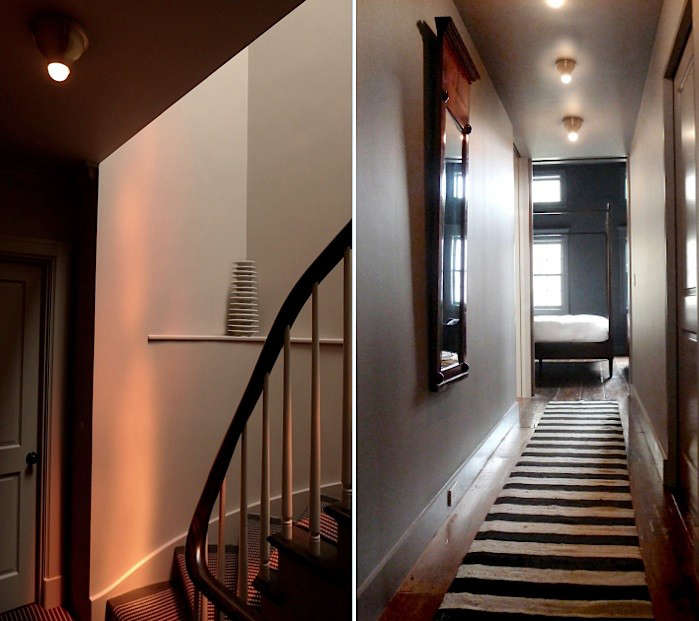 Above L: A Matthias Kaiser Stack Vase adds a sculptural element to a stairwell. Above R: A row of KM4 ceiling lights from Woka illuminates the hallway.
Above: The Briona Pendant, designed by Adolf Loos in 1914, is from Woka in Vienna.
Above: A vintage bed cover adds a dash of color to the bedroom's otherwise somber palette.
For more on Richard Ostell's personal design work, see House Call: Richard Ostell in Westchester and A Brit in Milwaukee. 
---
(Visited 115 times, 1 visits today)