Bloomville, a tiny crossroads town in Upstate New York, has a community hub built from the humblest ingredients. We discovered it last summer when we were in farm country photographing a Scandinavian-style barn for Remodelista's first book (out in November; stay tuned).
Table on Ten is a refreshingly ragtag café that the owners built and run themselves with a lot of neighborly encouragement–the mismatched tables and chairs were donated one by one by locals just before the July opening a year ago. It's located in a refurbished 1860's house on Route 10 and is dedicated to using ingredients sourced within 10 miles. Table on Ten hosts pop-up dinners with guest chefs, holds classes in foraging for wild edibles, and recently got its beer and wine license. It's celebrating its first anniversary this July 4 with a fresh pasta night (diners will be seated under linguini drying on clotheslines) and on July 5 with wood-fired pizzas–including dessert pies topped with ricotta cheese, honey, shaved dark chocolate, and sea salt.
Photographs by Matthew Williams.
Above: Table on Ten is the creation of Justus Kempthorne and Inez Valk-Kempthorne, escapees from Manhattan. He's a carpenter and cabinetmaker, and she's a chef/caterer (and former model who grew up in Holland). Having recently collaborated on their own post-and-beam cabin nearby, they renovated Table on Ten's nearly derelict building themselves, and recently unveiled two upstairs rooms for guests (more on that later today). The café makes use of salvaged oak from the house's old floor boards and was designed in collaboration with their friend Erjan Borren, an Amsterdam interior designer.
Above: The small dining room has mismatched furniture, antique mirrors, and an evolving art display.
Above: Old carpet was stripped away and the bare stairs painted white with a runner-like band of charcoal gray. The gray was matched from an original paint color and is also used in the café and dining room.
Above: The restaurant serves breakfast (Meyer Lemon marmalade on buttered toast, eggs in a nest with bacon), lunch (baguette sandwiches and salads), baked goods (lemon and lavender cookies, Dutch speculaas), pizza on weekends, and a lot of coffee and herbal iced tea. On Saturdays, it hosts a farmers' market.
Above: The counters and shelves are made of seasoned hemlock from a local mill. Justus used a combination of vinegar and steel wool to create the grayed finish. The shelves serve as a microshop stocked with Irving Farm Coffee roasted nearby, as well as a few delicacies that the couple missed from the city, such as Maldon sea salt and Frankie's 457 olive oil.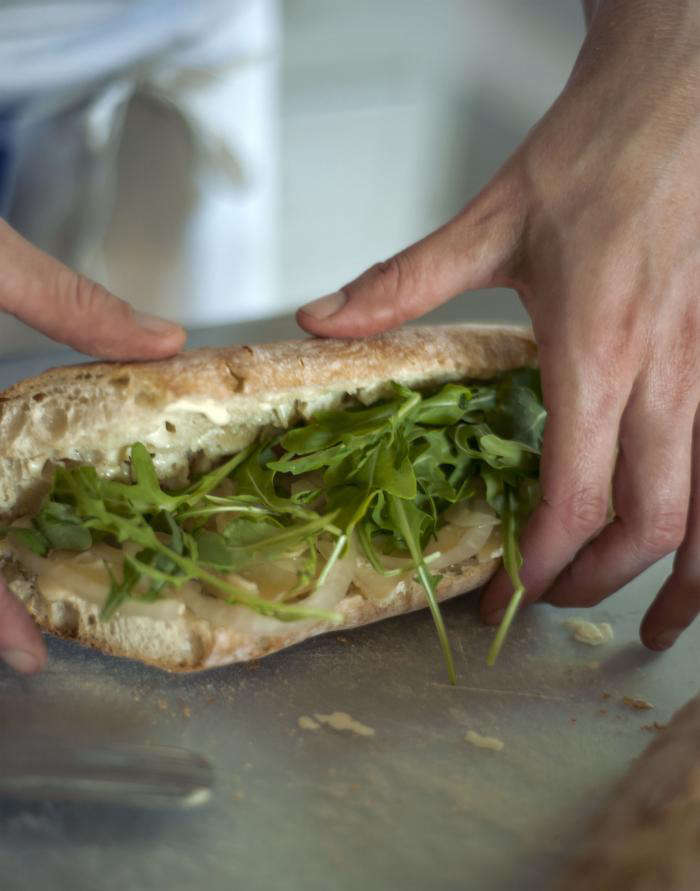 Above: Table on Ten's signature sandwich: Harvest Field Tilsit cheese with pickled onions, arugula, and safflower mayonnaise. The crunchy, tart onions are the key condiment. They're surprisingly easy to make. Here's Table On Ten's recipe:
In a liquid measuring cup mix together 1 cup apple cider vinegar, 1 cup water, 3 tablespoons brown sugar, 1 teaspoon salt, and 1 teaspoon whole black peppercorns. Stir until sugar and salt are completely dissolved.
Slice 1 onion (red onions are especially pretty) into thin, half-moon rings. Spread out in a colander and pour boiling water over the slices so they look wilted.
Place onions in a quart container and pour brine over them. Let cool before putting in the refrigerator. The quick pickled onions will be ready the next day.
Above: In the course of the renovation, ceilings were raised, new drywall and plaster added, and the service cabinets opened up, as they originally did, to pass through from kitchen to café.
Above: Ball jars from the local hardware store serve as cold drinks glasses.
Above: The three-part stainless sink, a regulation fixture, was sourced from a restaurant supply store. The hanging shelves and dish drying racks are from Ikea; the white dishes and mugs came courtesy of the defunct diner down the road.
Above: Justus inverted traditional picnic table proportions when he built the narrow, long perch out back. It's constructed from a single slab of hemlock. He also built the restaurant's wood-fired brick pizza oven.
Above: Word has gotten out–even the local hens regularly stop by.
N.B.: This post is an update; the original story ran on September 24, 2012.
(Visited 365 times, 1 visits today)