A while back, Marcus Samuelsson (culinary trendsetter, James Beard–award winner, cookbook author, NYC restaurant owner) teamed up with BlueStar to create a limited-edition line of functional, professional quality ranges called Inspired by Marcus. "I love the fact that these ranges are handmade in America, in BlueStar's Redding, Pennsylvania, factory," Samuelsson says. "This range is for the cook's cook; the French top, which features variable heat zones for slow cooking, sauteing, and wok cooking, is something I've used in my restaurants forever." The range may be tricked out for the serious home cook, but it's also got a distinctive aesthetic appeal (Samuelsson is known for his natty man-about-town style; indeed, he was named to the 2011 Vanity Fair Best-Dressed list) and comes in six shades, including copper, bronze, silver, sand, ginger, and matte black as well as two sizes: a 30-inch or a 36-inch wide model.
Images via BlueStar.
Above: The Inspired by Marcus BlueStar line of ranges comes in six finishes, including infused copper.
Above: Each range features knobs and trims to match the range color.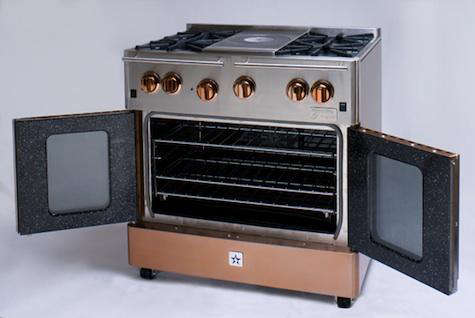 Above: French doors allow for easy loading and unloading.
You need to login or register to view and manage your bookmarks.