According to British decorator and entertaining expert Rita Konig, "A drinks tray breathes life into a room. It immediately gives a living room the sense that living indeed goes on there. Much like bookcases, a drinks tray adds depth, is welcoming to the visitor, and gives a few clues to the tastes of the inhabitants." For advice on putting together a cocktail collection, consult Konig's piece Here's to Cocktail Trays at the NY TImes.
Above: A vintage soft-drink shelf serves as cocktail bar in a Brooklyn house by architect Elizabeth Roberts.
Above L: Gentleman rock star Bryan Ferry's cocktail tray in his London apartment, via the WSJ. Above R: A bar cart spotted on Trendey.
Above L: A drinks cart tucked under a stairwell, photographed by Helene Toresdotter in Hus & Hem. Above R: A painted gymnasium locker serves as liquor cabinet; photo by Morten Holtum, via French by Design.
Above: A vintage cabinet from the venerable French food emporium Fauchon serves as a liquor cabinet in the apartment of French chef Sebastien Gaudard, via The Selby.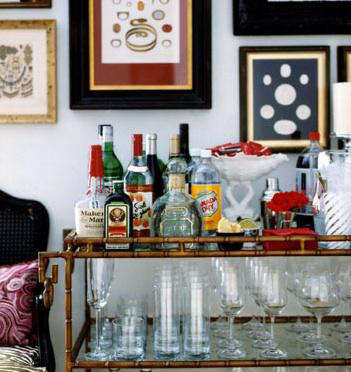 Above: A drinks trolley via All About Eve on Flickr.
Above: The liquor setup at Kate and Andy Spade's Manhattan apartment, photographed by The Selby.
You need to login or register to view and manage your bookmarks.