From the overcrowded busy print studios of London, Kate and Ben Lawrence have created an oasis in Norfolk for artists as well as shoppers in the Cold Press Studio and Gallery.
With backgrounds in the London art world, the empathetic Lawrences wanted to give artists time and space to explore intaglio printmaking. First they provided the artists with a studio in which to work and a cottage in which to stay. It soon became apparent that the artists needed a space in which to exhibit, and the congenial couple created a gallery where the work being produced in the studio could be showed alongside exhibitions of invited artists and makers. In November of this year, they moved the gallery into its new home—an old Methodist meeting hall in the Georgian market town of Holt. "I suppose our main aim is collaboration—we like putting people together who might not have worked together otherwise, and this extends to the shop, where we display work that fits together," Lawrence says. For more information, go to Cold Press.
Above: Portraits by Californian artist Kai Samuels-Davis sit on the mantelpiece. "With two young children, and living in the depths of North Norfolk, several of our relationships with these artists have almost entirely been conducted through email. Kai Samuels-Davis, who is based on the west coast of America and has been showing with us for several years, is a perfect example of this—it's almost like having an old fashioned correspondence," Lawrence says.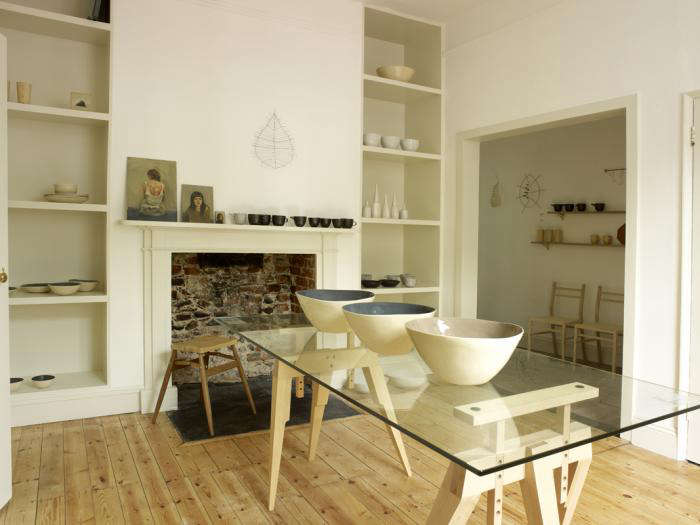 Above: The proportions of the early 1800s Methodist Hall provide a simple and austere background to the objects on display. The glazes of the ceramic bowls by Brickett Davda are inspired by the English light.
Above: Ceramics by Potomak Studios sit on a Sebastian Cox vitrine as well as the floor.
Above: A pebble shaped mirror from Brooklyn's Mc & Co hangs in the office of Cold Press (also see Revisiting Mc & Co. in Brooklyn).
Above L: Artists Chair 1 & 2 designed and built out of hazel by coppice master Sebastian Cox with commissioned fabric from Richard Saja (hanging) and Susie Cowie. Above R: The faceted brass pendant light is designed by Japanese architect Oji Masanori and produced by Futagami. N.B.: See London Design Week: Hazel Pendant Lighting to see more about Sebastian Cox and coppicing.
Above: A "Small Leaf" sculpture by Mari Andrews hangs above ceramic vessels by London artist Kaori Tatebayashi.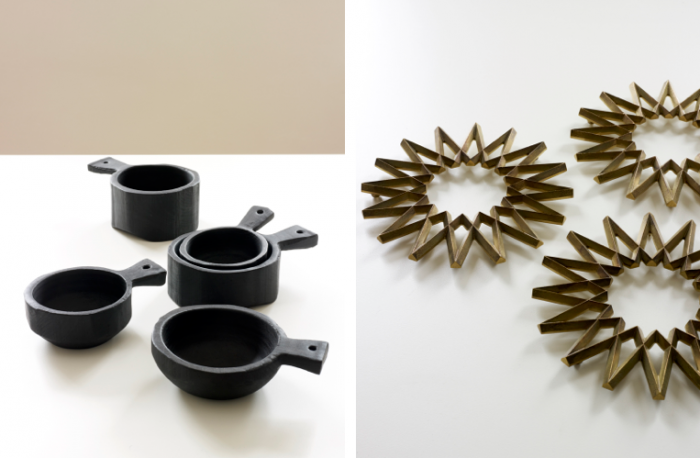 Above :. Local Norfolk artist Tim Willey makes charred sycamore vessels from his own 12 acres of woodland, which provide him with a continuous supply of sustainable materials. Above R. Brass trivets by Oji Masanouri are produced by Futagami in Japan.
Above: Vessels by London-based ceramicist Akiko Hirai are a personal favorite. My burgeoning collection of two sits on my desk at home, providing me with continuous inspiration.
Above: A collection of available ceramics at Cold Press.
Above: The Methodist meeting hall where Cold Press has recently moved was built in the early 1800s and originally had to be disguised as a town house from the exterior, due to the apparent unpopularity of the religion at that time.
N.B.: Visiting the Georgian market town of Holt, Norfolk, can feel like a step back in time. To see a decidedly old-fashioned clothing business in the same town, see Old Town in Holt, Norfolk.
You need to login or register to view and manage your bookmarks.