Proof that it pays to wander: Not too long ago, on the last day of a quick trip to Berlin, I rounded a corner in the Mitte and made my favorite discovery of the week: Laden, a just opened (that morning) cafe and furniture showroom with a vegetable garden out back. A collaboration between the Lokal restaurant team and furniture makers Buchholz Berlin, Laden is a showroom for Buchholz's rustic tables, stools, cutting boards, and wooden bowls, as well as a cafe serving flatbreads, wine, and afternoon coffee.
Katja Buchholz, the architect and designer behind Buchholz Berlin (she's also worked in the Berlin office of David Chipperfield), had been on the hunt for a location to showcase her line of furniture and accessories made from "regionally available materials," as she says, when she discovered the space. "Our wood is sourced locally and we use bio-tanned leather from the Bavarian alps and recycled metal from a local metal worker." Pieces are available to buy right off the floor or to order; see the range at Buchholz Berlin.
Photography by Dirk Lange, unless otherwise noted.
Restaurant
Above: The cafe is located in a 1780-listed building; the design team unearthed original wall murals of the Ballhaus during the renovation.
Above (L to R): A simple counter where lunch is served; a rustic tabletop; photographs via Anne Li West.
Above: A table set for lunch.
Above: A vintage copper trough serves as a wine cooler.
Above: Double doors open directly onto the vegetable garden.
Above: The rustic outdoor dining table is surrounded by a suite of folding Piana chairs, designed by David Chipperfield for Alessi; $225 each at Design Within Reach. Photograph via AnneLiWest Berlin.
Above: Five raised garden beds made from domestic oak planks are planted with kohlrabi, kale, cabbage, chard, and fennel, which appear on the daily menu.
Above: Vegetable harvesting. Photograph via AnneLiWest Berlin.
Shop
Above: The Sauener Forestry Table starts at €2,590 ($2,902).
Above: The Tripod Stools are €90 ($101) each; buy three or more and you get a discount.
Above: Prices for the Ash Trays start at €59 ($66).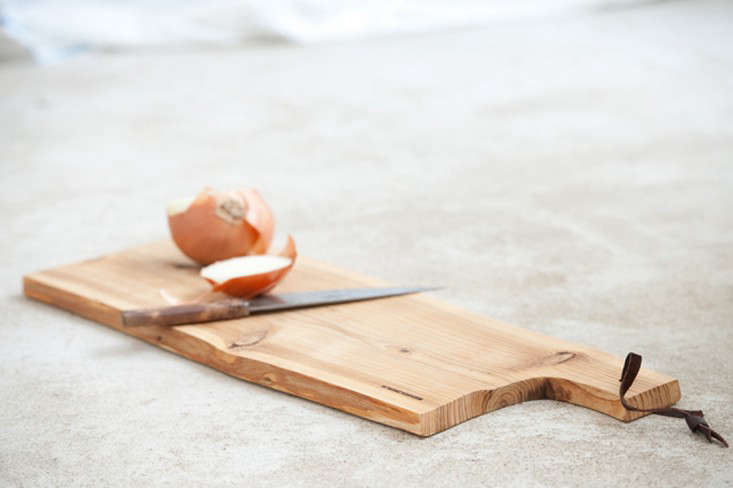 Above: The Cedar Board-a-Porter is €49 ($55).
Above: Prices for Beech Wood Bowls start at €9 ($10).
Laden, located at 20 Joachim Strasse, in the Mitte district of Berlin, and is open Tuesday through Saturday, noon until 8 p.m. For more Berlin travel ideas, see our Insider's Guide: 14 Don't-Miss Restaurants, Coffee Shops, and Cocktail Bars in Berlin.
(Visited 117 times, 1 visits today)