The perfect perch for watching the parade: here are nine collapsible options, ranging from high to low.
Above: Vintage Camp Stool with Pendleton Cover; $78 from Robin Cottage on Etsy (several are available with different Pendleton covers).
Above: The Wood & Faulk Tripod Camp Stool is made in the US of ash and English bridle leather and weighs 2.5 pounds; $165 from Sanborn Canoe Company.
Above: The Tri-Lite Folding Stool from Byer of Maine is made from aircraft aluminum with a canvas seat; $23.84 from Amazon.
Above: The Gallant & Jones Jericho Stool has an oiled white oak frame and a Sunbrella sling; $140.
Above: The Take Bamboo Chair from Japanese camping company Snowpeak is $160 from Wood & Metal (it's backordered but will be in stock soon).
Above: Best Made Co's Waxed Canvas Camp Stool has a rust-proof steel frame and folds down to 10 inches by 9 inches: $36.
The waxed canvas camp stool 131
Above: The Tripod Field Stool is a collaboration between UK companies Lissom & Muster and Cherchbi. It's made of English ash and leather with brass detailing; £210 from Lissom & Muster.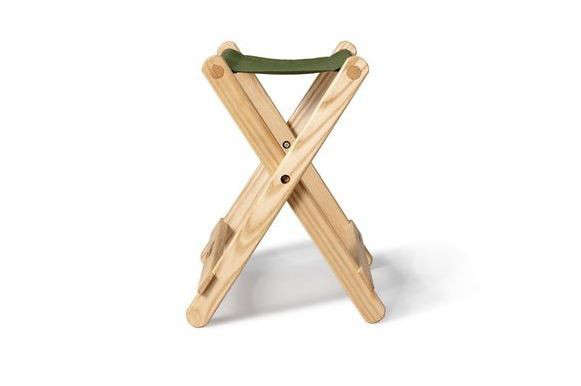 Above: The lightweight ash Chelan Stool from Filson is $62.
Above: The aluminum and canvas Folding Camp Stool is $15.50 from Waldron's Outdoor Sports.
For more outdoor gear (that we use indoors and out), see 10 Easy Pieces: Folding Camp-Style Chairs and 7 Classic Canvas Cots for Summer Slumber. And Gardenista, knows all about Outdoor Folding Chairs.