I often fantasize about having my own studio: a giant loft by the water with nothing but space, a sawhorse desk, a weaving loom, maybe even a potter's wheel. Then reality sets in as I think about the hopeless city real estate prices and all the expensive smocks I would require. But if you're lucky enough to have a studio space to work in, here is a list of 10 sturdy stools to work on.
Drafting Stools
Above: Hudson Goods Industrial Swivel Stool; $325 from Hudson Goods.
Above: Schoolhouse Electric's Drafting Chair is modeled after the early 20th century originals found in art studios and architects' offices. Made by an industrial furniture maker in Wisconsin from gray powder-coated welded steel and a curved maple seat and back, the chair adjusts to heights of 22 to 27 inches; $320 each.
Above: Makr's Swivel Studio Work Stool is made from powder-coated heavy steel (shown here in pale gray) with a black walnut swivel seat for $425. Made in the US.
Above: Lyon's DD1805 All Welded Steel Seat Stool in Dove Gray measures 24 inches high and is priced at $204.50 for a set of two chairs from Amazon.
Backless Work Stools
Above: The Steel Utility Stool is available in two sizes (18 inch for $130 and 30 inch for $180) and four colors: Sergeant Green, Machine Gray, Factory White, and Persimmon from Schoolhouse Electric.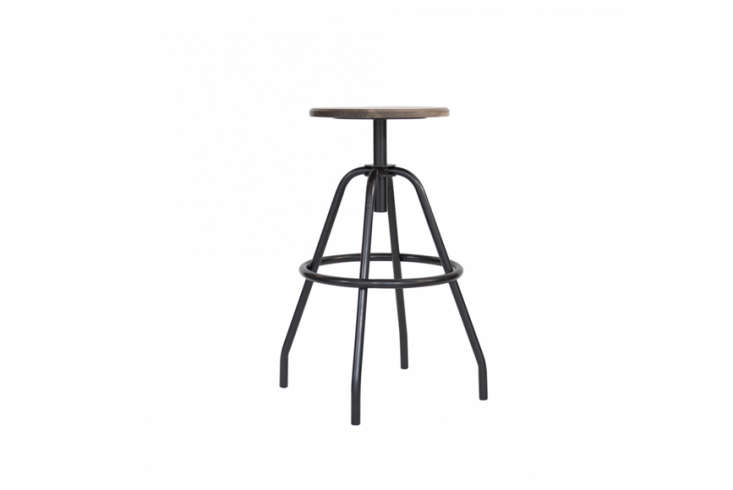 Above: Also from Makr (but too good to not include) is the Fixed Studio Work Stool made from pewter powder-coated stainless steel and a black walnut fixed height stool for $385. Also made in the US.
Above: The classic Tolix Marais Stool in an 18-inch size is stackable and good for working low to the ground, at a ceramic wheel, or a shorter desk; $180 from Design Within Reach.
Above: The no-nonsense Science Lab Stool with hardboard seat from National Public Seating is made from 30 to 40 percent post-consumer steel and masonite board for $50.85 each from Amazon.
Above: CB2's Flint 24-Inch Counter Stool is made from handcrafted steel with a raw finish and is priced at $119; alternatively the taller 30-Inch Flint Barstool is $129, also from CB2.
Above: A budget option is the Studio Designs Studio Stool with an adjustable seat (in white, silver, or black) and 2-inch covered casters for mobility; $59.99 from Dick Blick.
Above: Ikea's Dalfred Bar Stool is made from black painted solid birch wood and has an adjustable seat for taller desks at bar height (35-3/8 inch to 43-1/4 inch); $39.99 each.
Thinking of buying a simple stool but finding them too colorless? See our post on 5 Favorites: Bright-Painted Industrial Stools for more ideas.