How many times have you searched madly for keys, the dog leash, your phone as you dash out of the house? Here's a roundup of hallway butlers that will help you keep it together.
Above: The Wall Wonder Mirror from Ferm Living is £173 from Made in Design; the Smoked Oak Wall Wonder Mirror is also available directly from Ferm Living for $299.
Above: From Dutch designers Leitmotiv, the Coat Rack Mirror is made of powder-coated steel and is £76.25 from Amazon UK.
Above: The Rise Set Mirror, made in Toronto by Dayna Gedney, is available with an 18-inch round mirror ($278.27), a 24-inch mirror ($371), or a 30-inch round mirror ($556); all via Etsy.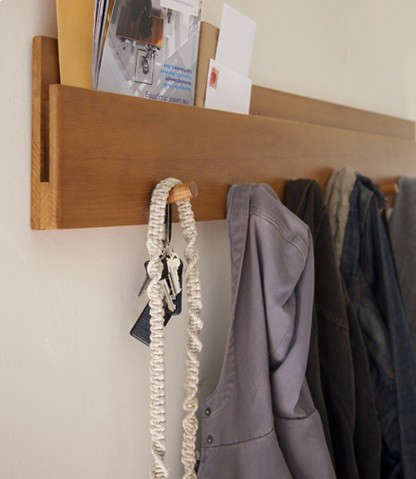 Above: The Muir Reclaimed Wall Coat Rack is available in natural or walnut; a 42-inch-long 5-peg rack is $197 and a 54-inch-long 6-peg rack is $233 from Amenity Home.
Above: A detail of the key shelf in Will Ullman's Thru Block Coat Rack, available in a variety of sizes and configurations through Canoe in Portland, OR.
Above: Brendon Farrell's Coat Rack is available in lengths of 18 and 36 inches, and in oiled walnut or oak; with a leather hanging strap for cellphones, keys, etc.
Above: The oak Jeeves Coat Rack with Mirror is £147 from SCP.
For more space savers, see 10 Easy Pieces: Inventive Wood Wall Hooks. And for another hallways valet, have a look at Cincinnati Storage, Golden Spikes Edition.
(Visited 464 times, 1 visits today)