Spatial efficiency down to the last detail–that's the way we like it. Here are five stackable bowls that will save you kitchen storage space. Look carefully: Some of these designs even have other uses. 
Above: Best known for his iconic Tea Kettle, Japanese designer Sori Yanagi also designed a set of simple and functional stainless-steel mixing bowls that come in three sizes with accompanying sieves. Available via Amazon, the 6-Piece Set is $122.37, and in the UK, the 6-Piece Set is £79.26.
Above: Joseph Joseph's Nest 100 is the ultimate space saver: the nine-piece food preparation set includes two sizes of stainless-steel mixing bowls, a stainless-steel fine sieve, a large stainless-steel colander, and a set of five measuring cups. In the US, the Nest 100 Bowl Prep Set is on sale at Best Buy for $134.99 (marked down from $169.99 until September 4). In the UK, the Nest 100 Bowl Prep Set is available through Joseph Joseph for £100.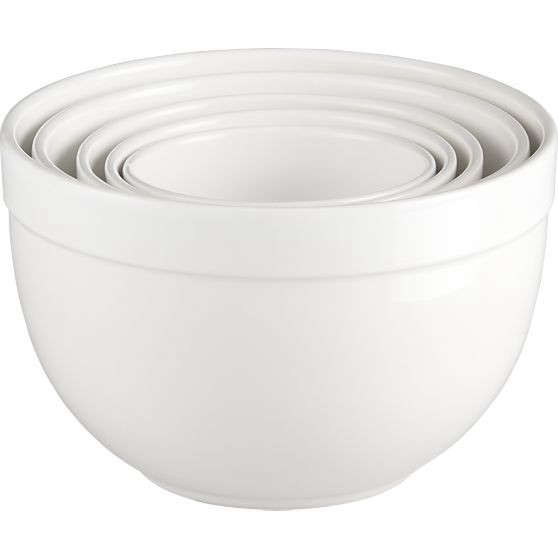 Above: A five-piece earthenware Nesting Mixing Bowl Set is $29.99 from Crate & Barrel.
Above: Tried and tested, the Duralex 10-Piece Glass Stackable Bowls are a kitchen classic. Available via Amazon, the 10-Piece Set is $47.36, and in the UK, the 10-Piece Set is £92.70.
Above: A set of seven Ceramic Mixing Bowls in black and white tonal shades is $99.95 from Williams Sonoma.
French company Duralex also make some of our favorite glassware. Read about it in Object Lessons: Iconic Café Ware from Durlaex. If you're looking for more ways to organize your kitchen, see DIY: Pegboard Kitchen Organization. 
On Gardenista, it's time to organize the garage with 10 Easy Pieces: Garage Organizers.
You need to login or register to view and manage your bookmarks.