The perfect summer chaser: Brew master Sam Calagione's new boutique hotel, the Dogfish Inn, is set in a former motel on the harbor in Lewes, Delaware, not far from beaches, pretty coastal towns, and his own Dogfish Head brewpub and distillery. Catering to design purists and beer fans alike, the motel's overhaul was masterminded by Studio Tack, a Brooklyn team with impressive hospitality creds–partner Jou-Yie Chou is a former brand director and "cultural engineer" of the Ace Hotel Group.
Photography via Dogfish Inn, unless otherwise noted. 
Above: The 16-room motel was completely transformed inside and out.
Above: The lobby is located inside what was formerly a single family house.
Above: New features include green-painted doors and slatted wooden panels for added privacy.
Above: The Dogfish Inn lobby has a high-style seaside vibe, copper diver's helmets included. The couch, which has a blue powder-coated metal frame and khaki canvas cushions, is the custom work of LA designer Stephen Kenn and his wife, Beks. The leather and oak chairs are by Ben Erickson. Jeremy Bennett of Black Point Mercantile designed canvas rugs for the lobby and for all the guest rooms.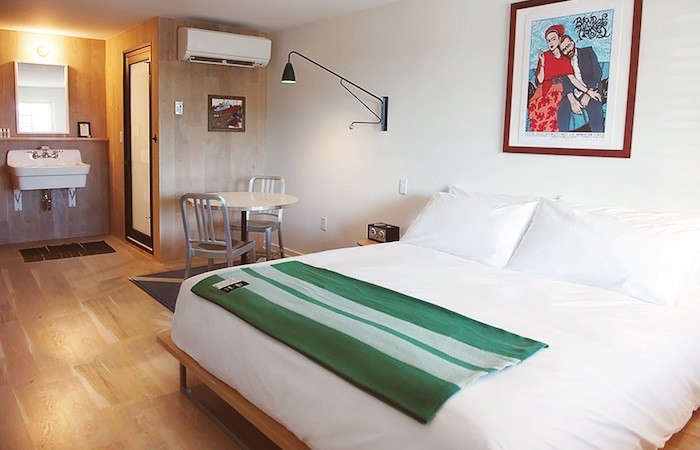 Above: The motel teamed up with Woolrich to create the Dogfish Inn signature green blankets; they're on each bed and for sale at the front desk. The white sheets are by Mascioni and the comforters are from Lewes, Delaware's own Midwest Feather & Down. Las Vegas lighting company OneFortyThree pulled individual details from designs in their inventory to create custom lighting for the inn. 
The hotel comes complete with a treasure hunt: Somewhere on the walls of each room, Delaware artist Steve Rogers painted a portrait of the Lightship Overfalls, a National Historic Landmark (and one of only 17 remaining lightships). The actual lightship is docked just a few hundred feet away, in Lewes Harbor.
Above: The rooms have a clean-lined midcentury feel. 
Above: Guest-room amenities include a large wood peg board stocked with a retro beach chair by Lawn Chair USA, and a custom Apolis market bag designed to hold several 750 ml bottles of beer. Each room also has a Fort Hanger mobile closet made by Jacqueline Sharp of Fort, and a bleached ash desk by Austin Robbins.
Beer isn't for sale at the hotel, but guests are encouraged to bring it back from the Dogfish Brewery and Brewpub, and barware (plus a mini fridge stocked with locally made snacks) is provided. Photograph by Morgan Hungerford West. 
Above: The bedside tables were designed by Eric Trine and each is equipped with a Tivoli Audio radio. Photograph via Selectism.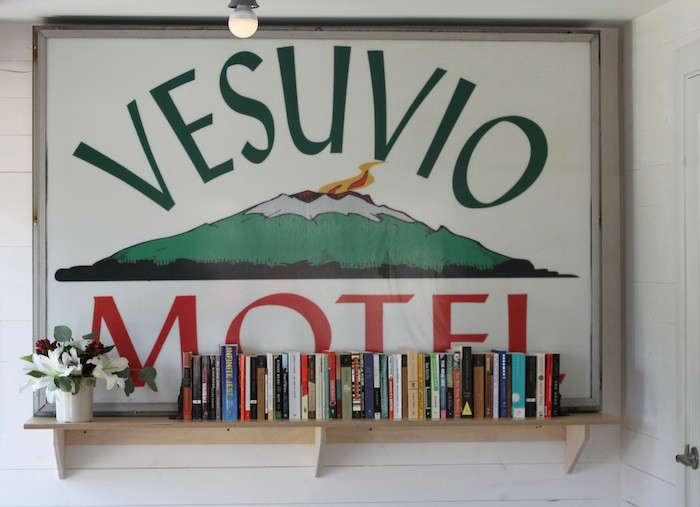 Above: Named after the old motel that the inn occupies, the guest library features a collection of 50 great American novels curated by the City Lights, the famous San Francisco bookstore. Photograph by Morgan Hungerford West. 
Above: Behind the inn, there's a gathering spot with a bonfire–the Cowboy Cauldron–surrounded by picnic benches and tables with metal trays in the middle to hold ice and beer. Here's how you can build your own DIY Picnic Table Wine Bar. To learn more about the hotel and its surroundings, visit the Dogfish Inn. Go to Dogfish to learn about the company's craft ales and brewpub.
 Below: The Dogfish Inn is on the harbor in Lewes, Delaware, a short walk from Lewes Beach. Rehoboth Beach, home of the Dogfish Head Brewpub, is six miles away (35 minutes by bike).
Check out our CIty Guides to explore more design-minded hotels and restaurants. Graham & Co. in the Catskills is another revamped motel you might want to learn about. Gardenista's got you covered when it comes to Backyard Fire Pits and Bowls.
(Visited 22 times, 1 visits today)