We work hard to source our food locally, but what about the tools we use to prepare it? Here's our collection of all-American accessories that deserve a place in your kitchen.
Above: Despite all the advancements in kitchen equipment, the classic American-style wood rolling pin is still the baker's staple. We like hand-turned designs, such as the simple Shaker Rolling Pin (right), from Vermont Rolling Pins; $75 in maple.
Above: Another classic for bakers, the Jacob Bromwell All-American Flour Sifter offers tried-and-true sifting technology; $84.99. See more Pioneer Kitchenware from Jacob Bromwell–all made by hand in Indiana using old-fashioned metalworking techniques.
Above: If you inherited a whisk from your childhood kitchen, chances are that it came from Oregon's Best Manufacturing. Best Manufacturing's whips, as they call them, come with a lifetime warranty. They're made in an array of sizes and with wooden or stainless steel handles. The Best Manufacturing Professional 10-Inch Wood-Handled Balloon Whisk is $11.95 at Sur la Table.
Above: Our favorite purveyor of classic cast-iron pans is Lodge (it's the oldest family-run foundry in America), founded in the Appalachian Mountains of Tennessee by Joseph Lodge. Read Object Lessons: Lodge Cast Iron for the full story. Seasoned and ready to use, the Lodge Logic 10-Inch Skillet is $15.92 through Amazon.
Above: Made in Iowa, the Rada Cutlery Stainless Steel Pizza Cutter has an aluminum handle (hand-wash only) and a super sharp and strong blade that cuts through the toughest of crusts (as well as pasta, cookies, and dough). It has a lifetime warranty; $10.95 from Kaufmann Mercantile.
Above: John Boos & Co. has been manufacturing high-quality wood cutting boards, butcher blocks, and countertops in Effingham, Illinois, since 1887. The John Boos 20-by-15-Inch Reversible Maple Cutting Board is a longtime best seller; $70.56 at Amazon. To extend the life of your board, give it a good oiling every three to four weeks with Food-Grade Mineral Oil from Brooklyn Slate Co.; $7.
Above: A great culinary tool borrowed from the wood shop: the made-in-Arkansas Microplane Classic Zester Grater is as ideal for zesting a lemon as it is for grating Parmesan cheese. Mine is in use daily; $12.49 from Amazon.
Above: Invented in the US in 1941 by a German immigrant, the simple Chemex Coffeemaker is made from nonporous borosilicate glass and fastened with a wood collar and tie. It's beloved by purists because it brews coffee without imparting any flavors of its own; $48 for the eight-cup model (the Chemex One-Cup Coffeemaker is $42) at Schoolhouse Electric.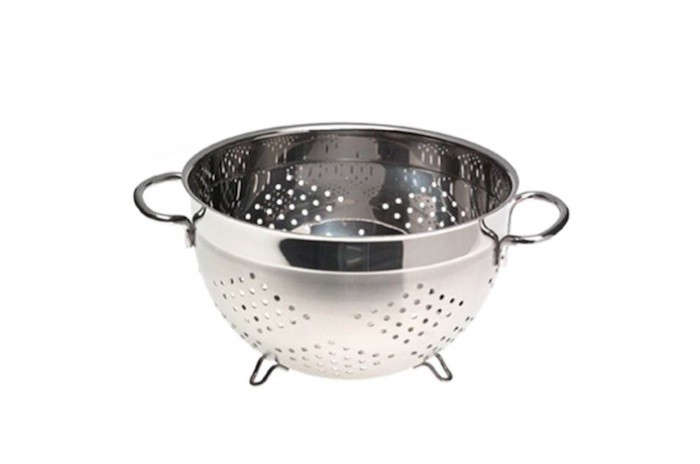 Above: Jacob Bromwell (makers of the sifter shown above) has been manufacturing kitchenware since this country was a mere 22 states, it's the 34th-oldest owned-and-operated company in US. Pricey but meticulously made, the stainless steel Jacob Bromwell Legendary Colander costs $199.99.
Above: The stainless steel Zim-Ade-O-Matic Two-Purpose Baster, a Thanksgiving essential with its own cleaning brush and injector attachment, is made in Chicago. It's $18.50 on Amazon.
Above: An American ice cream parlor fixture since its creation in the mid-1930s, the ingenious Zeroll Ice Cream Scoop is made in Ohio of corrosion-resistant aluminum alloy, which draws on the natural warmth of the hand to ease the scooping; $19.95 at Williams-Sonoma.
Above: Synonymous with door-to-door sales, the Fuller Brush Company is still around (but no longer knocking). They've released a new collection of vintage-style brushes, including the Fuller Dish Brush with a wooden handle and stiff memory bristles; $14 at Restoration Hardware.
Above: A never-fail classic, the manual EZ Duz-It Can Opener of heavy-gauge chromed steel with carbon steel cutting blades is $9.95 at Williams-Sonoma.
Above: Singled out in the Remodelista 100, the Eena Work Apron by Beckel Canvas Products of Portland, Oregon, is a hardworking basic that hides stains; $38 at Canoe.
Above: An American kitchen-counter icon, the Kitchen-Aid Artisan Series Five-Quart Mixer is made in Greenville, Ohio; $324 from Amazon.
Ready to complete your all-American kitchen? We've rounded up 13 US-Made Appliances, from Ranges to Refrigerators and 7 Sources for American-Made Hardware.
What kitchen tools can you not live without? See 10 Easy Pieces: Editors' Essential Kitchen Tools for our list.
(Visited 27 times, 1 visits today)