Finding cabinet pulls, door knobs and other hardware for the home that is truly American made will put even the most resourceful design detective through the paces.
Our research tells us that "made in the USA" may mean that a lever is assembled here, but with imported parts. "Designed in the USA"? Well, that's just what it says–no mention of where the materials are manufactured. And "based in the USA" may simply mean that the corporate headquarters are in the US but that manufacturing happens outside the country. We've done some legwork and present our favorite sources for hardware that's designed and manufactured in the United States. 
Have a favored US-made hardware source we should add to the list? Please share in the comment section below.
Above: Merit Metals Hardware manufactures all of its hardware, from bin pulls to cabinet latches, in Warrington, Pennsylvania. A family-owned company, Merit Metals has been making brass hardware in the United States since 1876. The Solid Forged Brass Classic Bin Pull (shown in antique satin nickel (top L) and satin brass (bottom L) is $11.54. The Solid Forged Brass Kitchen Cupboard Turn (R) is available in 13 finishes (shown in satin nickel) for $41.98. Both at Millenium Hardware. 
Above: San Francisco architect Cary Bernstein favors door knobs from Merit Metal for their clean lines and "really good weight and feel." The Merit Solid Brass Door Knob with Rosette 22525A (above L) is $146 for a passage set in chrome. The Merit Solid Brass Door Knob 22525B (above R) is $162 for a passage set in chrome. The knobs are available in 22 different finishes at architectural hardware stores nationwide; contact Merit Metal at (215) 343-2500 to locate stores near you (and for more door hardware ideas see 10 Easy Pieces: Simple Doorknobs).
Above: ER Butler's own line of high-end architectural hardware is made in New York (the Verveloet line they carry is from France). Their products range from the traditional to contemporary pieces created in partnership with designers like Chris Lehrecke. See Shopper's Diary: E. R. Butler in New York for a look inside the store.
Above: Not only is Reveal Designs Hardware manufactured in the US of high-quality materials, it is designed by renowned American architects and designers like Jim Cutler of Cutler Anderson Architects. An example is the simple and affordable Kirkland Pull shown above. Contact Reveal Designs to locate a distributor near you.
Above: Sun Valley Bronze has been creating handmade bronze hardware and home accessories from start to finish for more than 20 years near Sun Valley, Idaho. Their line of door, kitchen, bath, and cabinet fixtures is crafted and finished by hand in either silicon or white bronze.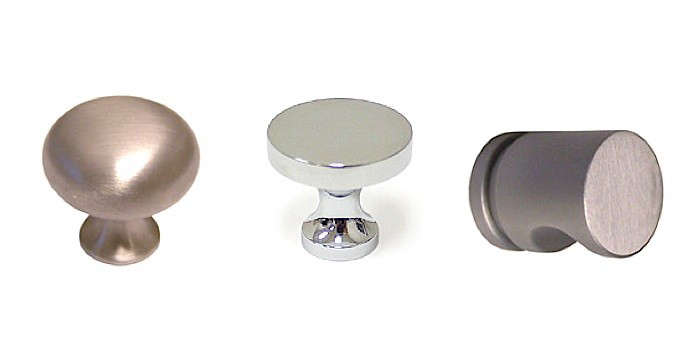 Above: Founded in 1927 in the Bronx, Colonial Bronze manufactures all of its affordable pulls and knobs (they come with a lifetime tarnish-free guarantee on the finishes) in Torrington, Connecticut. Shown above, from L to R: the Colonial Bronze Solid Brass Satin Nickel Cabinet Knob 124-15, the Colonial Bronze 170-26 Solid Brass Polished Chrome Cabinet Knob, and the Colonial Bronze 143-M26D Solid Brass Matte Satin Chrome Cabinet Knob; $6.12, $5.01, and $14.78, respectively at the Hardware Hut.
Above: Top-of-the-line Nanz architectural hardware is manufactured on Long Island and offers clean lines and impeccable craftsmanship. The Nanz Online Catalogue highlights their wide range of products, including bath hardware, cabinet hardware, and door hardware. The Nanz Door Lever 2096 (shown above) is a favorite; for pricing information, contact the Nanz Showrooms in NY, Chicago, Miami, London, LA, or CT. 
See more of our favorite Door Lever Selections.
Above: Made in New Jersey, Brusso Hardware is specifically designed for cabinetry and heirloom woodwork. They offer quality brass and stainless steel hardware including knobs, pulls, hinges, catches, latches, and shelf supports (as shown above). The Brusso Hardware's Stainless Steel Shelf Support Pins (and the corresponding Brusso Hardware Stainless Shelf Support Sleeve) are $24.50 for a set of four. 
Above: Designed and manufactured in Brooklyn, Watermark Designs products include decorative plumbing and lighting fixtures, bath accessories, and hardware. The Watermark Urbane Knob and the Watermark Urbane 18-inch Towel Bar; $21.95 and $174.75 respectively at Quality Bath. We particularly like Watermark Designs Brooklyn Collection Faucets.
You need to login or register to view and manage your bookmarks.