If holiday decor were reduced to one item, it would have to be string lights.
N.B.: While the lights included are rated for outdoor use (some recommend covered areas), they can all be used indoors.
Above: Silver or gold? Gold Starry String Lights feature Amber LED lights on bendable fine copper wire; available in several lengths; prices start at $15 (currently on sale for $12) for a 5-foot length at Restoration Hardware.
Above: A 15-foot-long string of white Stargazer Lights on copper wire scatters pinpoints of warm light in the garden. Maybe you'll leave them up all year long; $38 from Terrain.
Above: Flexible copper wire (L) is easy to wrap–and hide–when stringing the Stargazer Lights.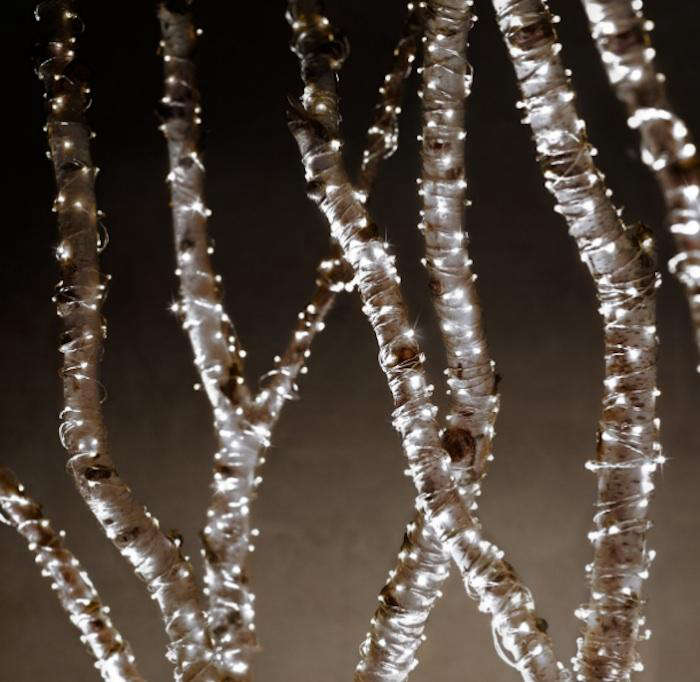 Above: Silver Starry String Lights have diamond-colored LED lights strung on bendable fine silver wire that conforms to any shape. The adapter- or battery-powered lights are available in 5-, 10-, 15-, and 20-foot lengths. Currently on sale for $12 to $40 (regularly $15 to $50) at Restoration Hardware.
Above: Classic globe Festival Lights come in a 25-foot length and up to three strings can be connected; $36 at Terrain.
Above: The White LED Angel Light Set is 54-inches long with 10-inch spacing between strands; $84.99 at Hayneedle.
Above: Ikea's Snowflake Strala Light Chain uses LED lights and has 48 snowflakes and is about 30 feet long; $19.99.
Above: The Strala Snowball Light Chain uses LED lights and is 55 inches long; $19.99 at Ikea.
Above: The Flickering Flame Lights do just that. The 21-foot strand is $38 at Terrain.
Above: The Mercury Glass Globe String Lights can be used in protected outdoor areas. Available in 8- and 21-foot lengths with 10 or 20 globes respectively; $39.50 and $79.50 at Pottery Barn.
Above: Traditional white twinkle lights go green with efficient with LED lighting. The Warm White LED Italian Christmas Light String has a generous 23-foot long green wire; $28.99 at Hayneedle. No outdoor power source? Consider Solar Powered LED White String Lights available at Solar Illuminations for $39.99 (for a 100 light set).
For more outdoor inspiration, see these barn-style lighting ideas and our earlier Outdoor Lighting Features for more inspiration.
(Visited 72 times, 1 visits today)