Hipster Tokyo real estate company R-Real Estate specializes in "old but attractive edgy spaces." After consulting in the design of countless remodels, the team founded R-Toolbox, an offshoot business designed to make the move-in process easy by supplying urban denizens with exactly what might they need, whether that's a hand-forged brass bracket or an entire stainless steel kitchen. Run by a team of eight, including an architect, designer, and craftsman, R-Toolbox offers DIY workshops on shelf-building and other basics in its just-opened Shibuya-ku showroom, and will send over a work crew on request.
"In the mainstream market in Japan, home design solutions tend to be very packaged and homogeneous. But recently there's a desire for original spaces and craftsmanship," says the company's CEO Atsumi. "That's why we provide the 'toolbox' for people to edit their own spaces." Here's a small sampling from the R-Toolbox arsenal. American real estate firms, we hope you're taking notes.
Sinks
Above: The Minimalist Stainless Steel Sink and Cooktop–"well suited to the rental property"–can be ordered in a range of lengths.
Above: The skinny, stainless steel Mini Kitchen "omits extra things" and is recommended for offices and studio apartments.
Storage
Above: R-Toolbox's Larch Plywood Hanging Cupboard has sliding doors available in six colors and is fitted on the inside with a center shelf. It comes in three sizes, starting at ¥32,000 ($265.78).
Hardware
Above: The Square Bar cabinet pull, ¥4,968 ($41.26), comes with or without a base plate.
Above: Made by a small factory in Osaka for R-Toolbox, Shelf Brackets are available in two sizes in brass, iron, and three types of stainless steel. These large brass brackets are ¥3,300 ($27.41).
Above: The same Osaka team produces these hand-forged Greedy Towel Racks in two thicknesses and a range of metals; length made to order.
Flooring
Above: The R-Toolbox offerings extend to wood flooring and tiles. We especially like the salvaged American Gym Flooring with its original colored lines "woven randomly for a fun look."
Complete Kitchens
Above: A Minimalist Stainless Steel Kitchen. The kitchen is produced by a small metalworks factory. "Our team designed it," says Atsumi, "and to minimize price, this product is just folded and brushed stainless plates."
Above: So far, R-Toolbox sells its designs in Japan only, but international shipments are available for certain products, and the company hopes to extend its reach.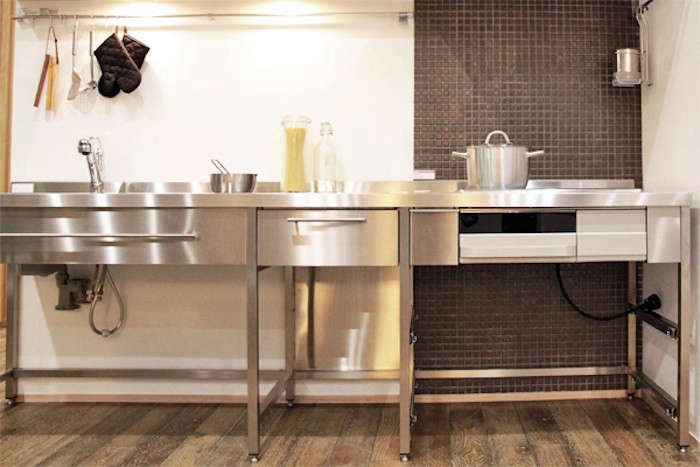 Above: A more elaborate Stainless Steel Frame Kitchen is also available to order, details are customizable. Go to R-Toolbox to see more, including a Black Frame Kitchen.
For Japanese lighting that we have our eyes on, take a look at Flame by Kenichi Kandatsu, in our post A Japanese Lighting Company Embraces the Dark Side.
N.B.: This post is an update; the original story ran on September 30, 2015.
(Visited 286 times, 1 visits today)