By way of traditional techniques (perfected over hundreds of years), Japanese blacksmiths are known to make the most beautiful and practical kitchen knives. Here's a look at our favorites (lethally sharp blades included).
Above: Suitable for cutting meat, fish, and vegetables, the Misuzu Santoku Knife is handcrafted by Banshu Hamono, a Japanese collective of skilled blacksmiths that has a history dating back to 1744. The knife has a stainless steel blade and a magnolia and buffalo horn handle. The knife is currently sold out from Analogue (the same knife can be purchased from Chef Knives to Go for $200).
Above: The all-purpose Masanobu Damascus Santoku Knife has a VG-10 cobalt stain-resistant steel blade and a pressed wood handle with a metal bolster to provide balanced weight; $340 from Korin. The VG-10 cobalt blade is one of the highest quality steels used in knife production today and has a superior edge retention. Note: Left-handed users must have Masanobu Damascus line knives converted for left-handed use.
Above: The Tadafusa Chef's Knife (second from left) is designed by Fumie Shibata, whose goal was to bring together traditional Japanese knives with the needs of Western cooking styles. The Tadafusa knives are made from durable stainless steel and a handle of chestnut; $210 from Japan-based Astute Assembly.
Above: The everyday household Santoku Knife by Ambia is appropriate for all kinds of food preparation. It's made from high-performing stainless steel and laminated wood; $98 from Nalata Nalata in NYC.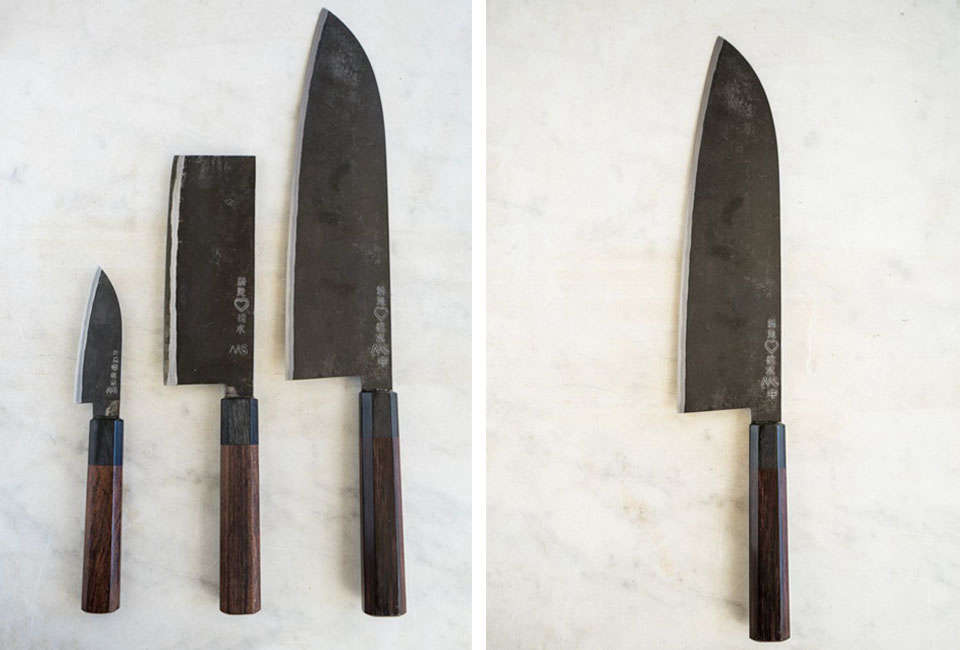 Above: If you're looking for a serious multipurpose professional knife, the hand-forged Takeda Hamono Gyuto Knife (pictured to the right) fits the bill. The thin 10-inch carbon blade is clad with Aogami super steel coating, and the rosewood octagon handle (friendly to both right- and left-handers) has a black pakka wood collar; $515 from Quitokeeto. The other two knives from the same maker are a Mini Petit (paring knife) and a Nakiri (multipurpose/vegetable). You can purchase the Takeda Hamono Japanese Knife Set for $1,095, or buy the knives individually.
Above: The simply designed Sori Yanagi Stainless Steel Kitchen Knife is constructed from corrosion-resistant steel and is practical for daily use. The knife is available in three sizes; prices start at $154 for the smallest size (8.25-inch blade, shown) from Rimuko in Philadelphia.
Above: Handcrafted in Japan, the Shun Classic Chef's Knife features a thicker blade than traditional Japanese cutlery (a 22-degree cutting edge modeled after European chef's knives). The knife has a VG-Max "super steel" blade clad on each side with 69 microthin layers of stainless steel and a handle made from moisture resistant Pakka wood. The knives come in two sizes (with either a 6- or an 8.25-inch blade) and are currently on sale for $89.95 and $149.95 from Williams-Sonoma.
Above: Forged in Sanjo exclusively for Best Made, these Japanese Chef Knives have a stainless surface layered with a high-carbon core (exposed only around the edge to ensure hardness for a sharper, longer-lasting edge). The scorched magnolia handles are moisture resistant and the pakkawood collars have sanitary properties. The knife comes with a canvas blade guard to protect the edge. A set of four knifes costs $458, or you can buy the knives individually, starting at $98 from Best Made.
Above: The Global Classic Chef's Knife (recognizable by its seamless and hollow handle) is made from hard Cromova 18 high-carbon stainless steel, ice tempered and hardened to resist corrosion. The knife comes in six-, eight-, and 10-inch sizes, starting at $104.95 (currently on sale) from Williams-Sonoma.
Above: The Miyabi Birchwood Japanese Chef's Knife has a hand-honed blade edge that undergoes a four-step hardening process (ensuring an extra sharp edge); the handle is made from Masur Birch. The chef's knife is currently on sale for $229 (down from $279) from Food 52. The knife is also offered in other sizes.
Shopping for a good set of knives? See our posts:
And we'd love to learn about your favorite Japanese kitchen knife, please comment.
You need to login or register to view and manage your bookmarks.