During our recent remodel, one of the items at the top of my wish list, was astonishingly doable: I wanted to bring electricity to the center of the living room without having a web of ugly white cords and power strips. The solution was to add strategically placed electrical outlets in the floor. Since our room was under construction, we made cardboard templates of our sofas and placed them on the floor to figure out where to plant the outlets (which are dropped into the floor and stay flush). It was as simple as that. Our house, a 1940s pier-and-beam construction, was a perfect candidate for the install because our electrician could easily crawl underneath the first floor, drill the outlet holes, and eventually pull electrical wire to connect the floor outlets. But a floor outlet, it turns out, can be installed any time if you have a wooden or concrete subfloor, not only during a remodel or new build. 
Here are 10 residential floor outlet options to consider in different colors and shapes (round or rectangular), and with single or several outlets on each unit, starting with the one I chose: 
Above: Under our living room sofa, I opted for two Carlon Receptacle Drop-in Floor Box Kits with Hole Saws; 39.97 from Home Depot. They each come with a tightly fitted brass top that prevents my daughter's long-reaching fingers from playing with the outlets. And since I like to work on my laptop from my sofa, I can now easily stay charged. Photography by Izabella Simmons.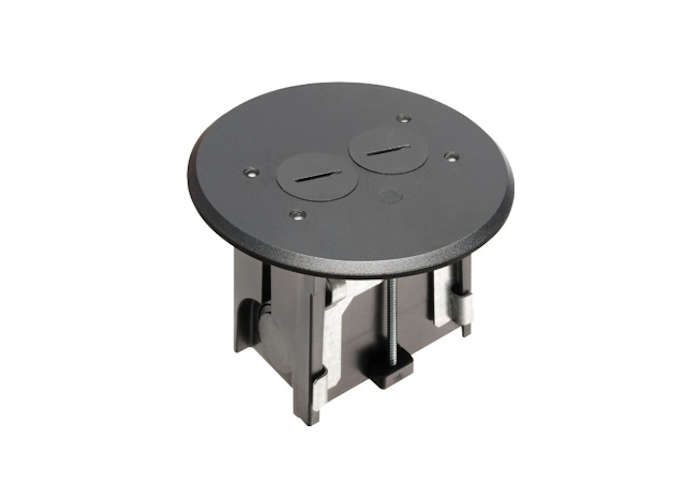 Above: The Arlington Adjustable Round Floor Box Kit with Outlets and Black Plate Cover is $23.04 via Amazon. The floor outlet is also available in brown and light almond. 
Above: The Arlington Adjustable Floor Box Kit with Outlet and Flip Plate in Brown. The complete floor outlet is $18.80 from Amazon. It also comes in black, light almond, and white (shown below). 
Above: The Arlington Adjustable Floor Box Kit with Outlet and Flip Plate in white is 18.80 from Amazon.
Above: The Leviton Floor Box Kit in Brushed Nickel Finish is an all-in-one, ready-to-wire unit; $44.16 from Galesburg Electric. 
Above: The Raco Recessed 18 Cubic-Inch Round Floor Box with a nickel-plated cover and flange works well on wood subflooring; $39.97 from Home Depot. The box is also available in brass. 
Above: This Stainless Finish Pop Up Floor Box Kit includes the box, cover, and 20 Amp decorative receptacle. The unit pops up when in use and otherwise is flush with the floor; $69 from Garvin. It also comes in a brass finish.
Above: Arnet's Brass Plated Recessed Floor Plate with a Single Receptacle is $81.87. The company specializes in floor boxes and offers 38 custom finishes for outlet covers.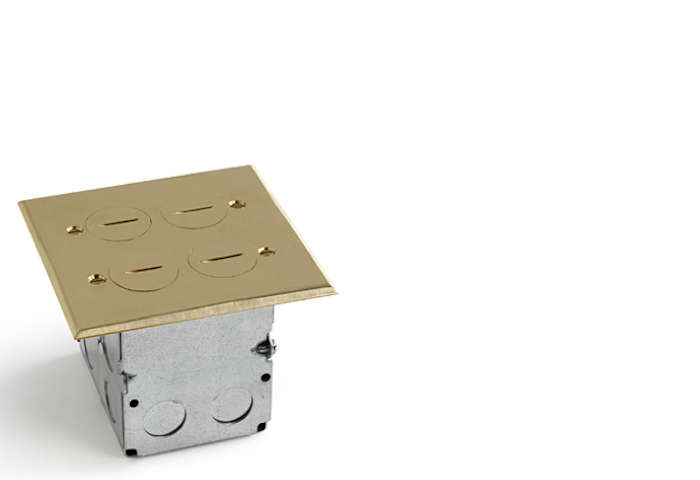 Above: This Lew Brass Covered Electrical Floor Box comes with four outlets; $96.79 from A Plus Supply.
Above: The pop-up Orbit Brass Industrial Floor Box Pop-up with Duplex Receptacle and RJ45 (for phone and ethernet cable) is $149.50 from Alcon Lighting Supply. 
Looking for more solutions for hiding computer cords? See Miracles Do Exist: 5 Ways to Banish Computer Cords from Your Home Office. A must in most households: extensions cords. These five are pretty enough not to hide.
(Visited 148 times, 2 visits today)