Last week we featured the Cliffside Home of creative couple McShane and Cleo Murname of Project M+. Today, we're revisiting their exquisitely simple, blue-and-white-tiled master bath–and lingering long enough to investigate all the key elements.
Photography by Mimi Giboin.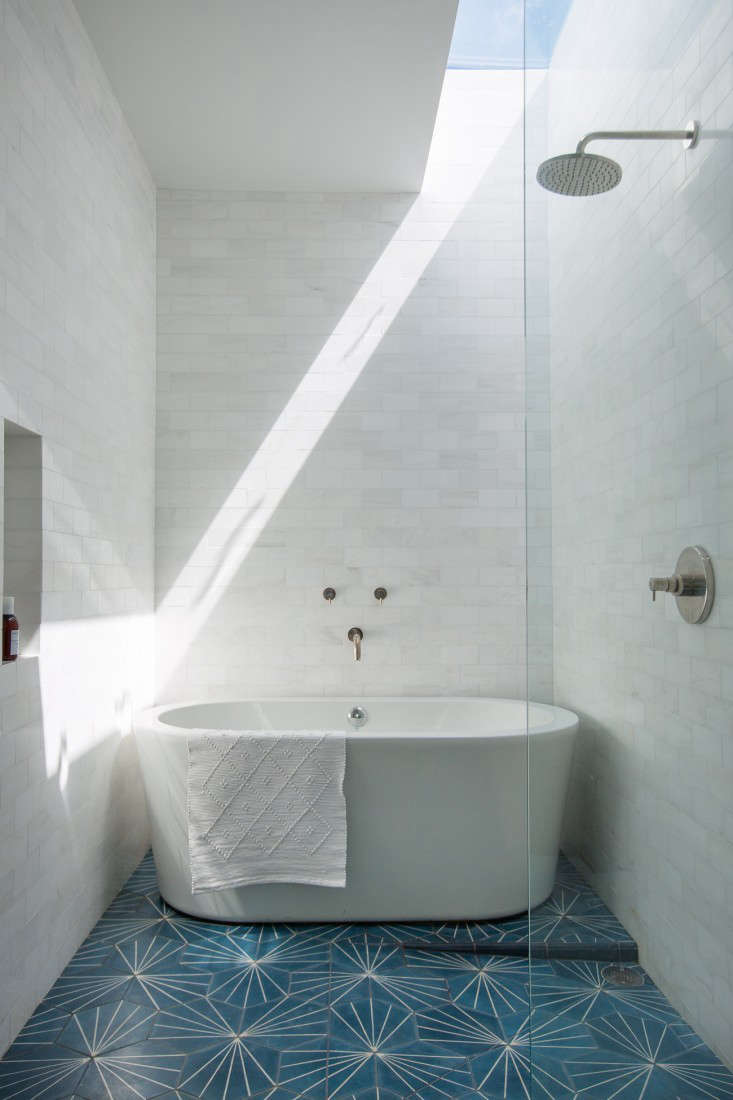 Above: Sun from a skylight streams across bathroom walls tiled in Thassos marble, which is known for its luminous shades of white.
Above: The couple paired the marble tile with encaustic cement floor tiles that have an international pedigree.
Above: A custom marble-topped vanity is propped with handmade ceramics and a piece of driftwood from Lake Michigan used as a soap dish. The cabinet's metal knobs came from Liz's Antique Hardware in LA. The mirror is also custom.
Above: The vanity has an undermount nickel oval sink. The Thassos marble counter was made from a remnant supplied by the installer. Considering marble for your own home? Get the lowdown in Remodeling 101: Marble Countertops.
The Tiles
Above: The tub and shower area are surrounded by Thassos White Marble Subway Tiles; $16.99 per square foot from Stone Center Online via Amazon.
Above: The floor is in cement encaustic Dandelion Blue Tiles, designed for Swedish Marrakech Design by Claesson Koivisto Rune, a multidisciplinary architecture firm based in Stockholm. The pattern was inspired by Japanese lacquerware and textiles and comes in hexagonal tiles that measure 20 by 23 centimeters each and are 16 millimeters thick. They're are sold in boxes of 12 (0.414 square meter). A box is SEK 672 ($89) and the price per square meter is SEK 1,625 ($215), including VAT. See more Moroccan Tiles designed by Rune.
Fixtures & Faucets
Above: The Neptune Amaze Oval Freestanding Soaker Tub by Produits Neptune is available in two models. The 60-inch-long version is $1,517.25 from Decor Planet.