Petaluma is on the ups. The onetime Northern Californian farm town is a go-to source for antique lovers, the food cognoscenti flock to Della Fattoria, but we think it's Maude, the delightful children (and adult's) clothing store, that's really putting Petaluma on the map.
Stacy Lauer, who designed the interiors of Saltwater, which we featured earlier this week, and doll and clothing designer Jess Brown (we posted her Petaluma Home yesterday) met through their children's school. They knew they were kindred spirits when they noticed that they both were wearing Erica Tanov clothing while their children sported Flora and Henri (let's just say, not typical Petaluma wear). Before they knew it, the two had opened a small shop downtown selling the sort of hard-to-find handmade children's clothing that they appreciate with small accessories and women's clothing added to the mix. For more, visit Maude.
Photography by Mimi Giboin for Remodelista.
Above: Painter's drop cloths function as room dividers; the rustic furniture is made to order; contact Maude for ordering information.
Above: Housed in a former downtown jewelry shop, the once dark and dingy store was opened up into a large, bright loft-like space.
Above: Among the children's clothing offerings: pieces from San Francisco designer Dagmar Daley and New York-based Makie.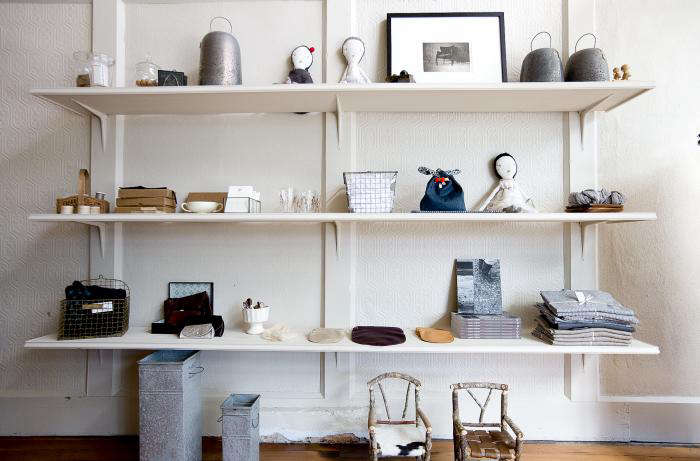 Above: In addition to clothing, the store carries select goods for the home, including Fog Linen napkins, ceramics, and other finds.
Above: Dolls by Jess Brown. Since the launch of her clothing line.
Above: Cotton Turkish towels from Erica Tanov, displayed in a vintage case.
Above: Zippered purses made by cult French children's clothing company, Le Vestiaire de Jeanne. In the foreground are bags by Dean.
Above: A long wooden table is used for holding children's workshops (ranging the gamut from book binding to paper doll making).
Above: The vitrined store front.
Browse more Shopper's Diary.
(Visited 11 times, 1 visits today)