It's a continual conundrum: where to store those important items you need when you leave the house? Bowls on the entry table? Wall-mounted storage units? Your coat pockets? Here's an idea we like: the Walhub, a switch plate with storage for keys, outgoing mail, leashes, and other objects that often come and go with you. 
Launched in 2013 as a Kickstarter-funded product, Walhub switch plates are designed and manufactured by Upwell Products, the result of a partnership between a design studio and a plastic injection molder on the West Coast. Made of white ABS plastic, Walhub switch plates are offered in two styles: "Hang" with two hooks, and "Keeper" with two hooks and a storage pocket for letters. Prices range from $13.95 to $18.95.
Above: The Walhub 2Hang Toggle (shown) comes pre-assembled with a pair of wall hooks and replaces a standard two-toggle switch plate; $15.95.  
Above: The Keeper models features two hooks and a storage pocket that can hold often forgotten mail and other items like sunglasses. The Walhub Keeper Toggle fits a 1 gang standard toggle switch; $18.95.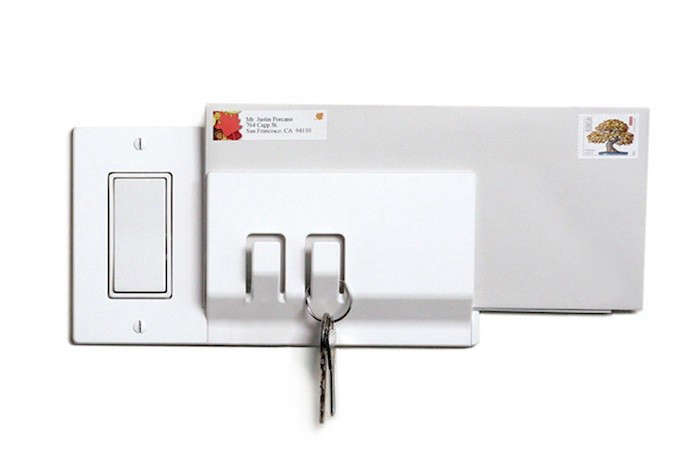 Above: The Walhub Keeper Rocker fits a standard Decora switch and is $18.95.
Above: Walhubs are easy to install: Just unscrew the existing switch plate and screw in the Walhub (screws provided). No drilling holes or fitting wall anchors required. 
Above: The Walhub Keeper Rocker is compatible with many switch types. As long as the light switch or outlet fits a standard rocker/Decora or toggle opening, it will work with Walhub (including brands like Lutron). Here, the Walhub Keeper Rocker is used with a standard rocker-sized outlet, making it a great choice for a smart phone storage and charging station.
For more switch and outlet innovations, see Invisible Plugs (Recessed Outlets) and Remodeling 101: Pop-Out Outlets.
You need to login or register to view and manage your bookmarks.