Our judges have selected the finalists, now you choose the winners. Vote for the finalists in each of 12 Considered Design Awards categories, on both
In the Best Professional Living/Dining Space category, our five finalists are Alterstudio Architecture, Larson and Paul Architects, Alterstudio Architecture, Studio [D] Tale, CWB Architects, and Lang Architecture.
Project 1
Alterstudio Architecture | Austin, Texas | Bouldin Residence
Design Statement: "The Bouldin Residence is a compactly designed two-story house that takes advantage of views to a private walled pool courtyard that acts as a buffer to the busy front street and a large protected live oak tree in the back."
Chosen by: Remodelista editor in chief Julie Carlson, who says, "The compact living/dining area has an open, airy feel thanks to the floor-to-ceiling windows overlooking the pool area. Indoor/outdoor living at its best."
Above: "Living room with view out to the pool area."
Above: "The front entry opening into the living room is demarcated with inset reclaimed wood flooring."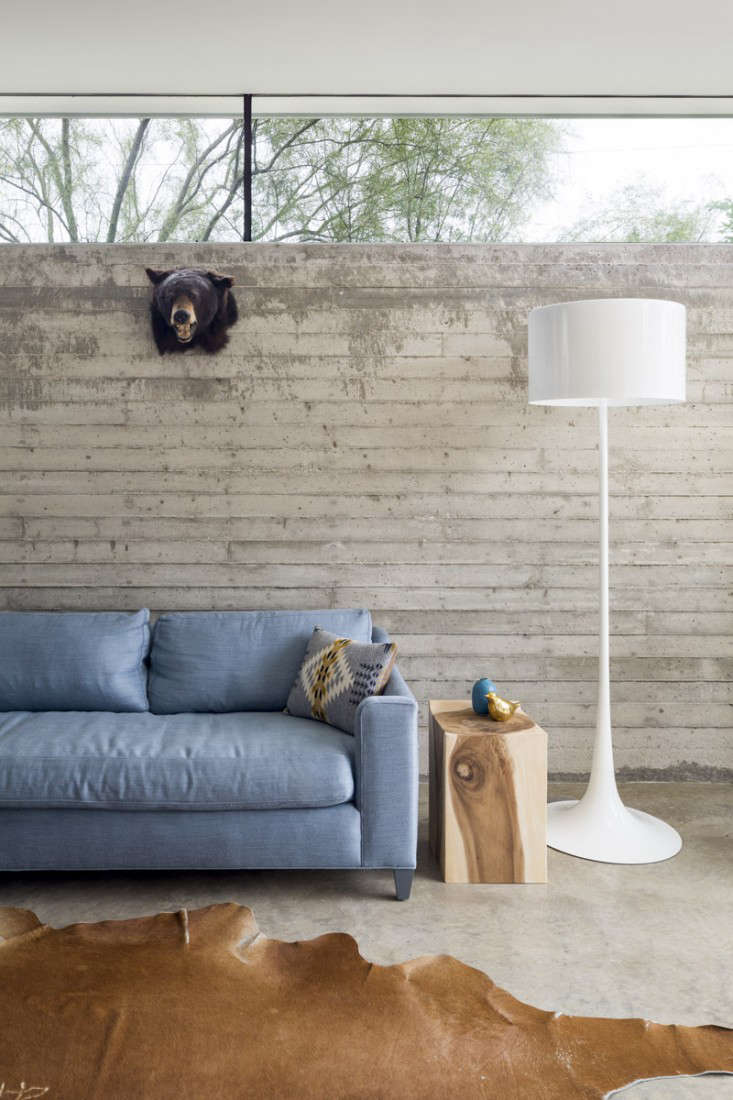 Above: "The palette consists of raw materials like concrete, steel, and glass."
Above: "The pool court."
---
Project 2
Larson and Paul Architects, LLP | New YorkӬ, NY | Hudson Valley Escape
Design Statement: "A well-thought-out Hudson Valley getaway." "¨"¨Interiors with NLGB–Selina van der Geest. Photography by John Gruen.
Chosen by: Guest judge and designer/stylist Estee Stanley, who said, "I love the color scheme and the casualness of this home. It feels really relaxed but still edgy."
Above: "Sliding doors open the living room to the rolling meadow and forest beyond."
---
Project 3
Studio [D] Tale | London, UK | Peponi House
Design Statement: "Peponi House is an African-inspired home for a Kenyan client living in London. Imbued with rich natural materials and contrasting textures, the living space is designed to create a warm inviting feeling. A feature fireplace centers the space and bespoke joinery tucks away items discretely."
Chosen by: Julie Carlson, who says, "This interior is so unexpected and refreshing; I love the mix of vibrant colors and how personal the space feels thanks to the owner's art and objet collections."
Above: "The living room. Joto, noun–heat."
Above: "Vintage furniture and collectibles."
Above: "Coffee table reading and Zanzibari coral."
Above: "Bespoke joinery with handmade leather pulls."
---
Project 4
CWB Architects | Brooklyn, NY | Brooklyn Heights Tailored Modern
Design Statement: "This home in Brooklyn Heights needed a complete gut renovation and the new owners wanted a functional, tailored space to enjoy with their family members and guests. There was no need for a formal dining room, but rather a connected space for hanging out and entertaining."
Chosen by: Estee Stanley, who had this to say about the project: "I love the vibe of this home. It's pretty traditional with a whiff of modern and edgy. I love how homey and warm it feels, while also managing to be elegant and beautiful."
Above: "View of living from dine-in kitchen."
Above: "View of dine-in kitchen from living room with custom banquette seating in a new bay window overlooking the garden."
Above: "Dining area at kitchen."
Above: "Custom wall unit for linens and additional plating zone."
---
Project 5
Lang Architecture | Kerhonkson, NY | Hudson Woods
Design Statement: "Set amid forests and meadows, Hudson Woods aims to blend modern design seamlessly with natural surroundings. Taking its cue from midcentury values, the home maintains a level of simplicity and functionality while employing rustic elements drawn directly from the area and resulting in a warm interior setting."
Chosen by: Guest judge Estee Stanley, who says: "This design is perfection to me. Everything about it–every piece of furniture goes so well with the space; it's so soothing and warm. Well designed and tasteful."
Above: "View toward dining area in the great room with mahogany framed window."
Above: "Gabled window wall with white oak ceiling and exposed beam construction."
Found your favorite? Vote once per day in each of 12 categories across both sites, now through August 15.
(Visited 551 times, 2 visits today)