The ultimate one-off: a sculpted bath or shower enclosure made from lime plaster, concrete, or Tadelakt—a Moroccan pigmented plaster. Here's a roundup of some recent favorites.
Above: A plaster shower by interior designer Ana Fernández at Cortijo El Canito, a villa for rent in Andalucia through Nice2Stay.
Above: An entire bathroom—tub included—molded out of plaster at Villa Fabrica in Santorini.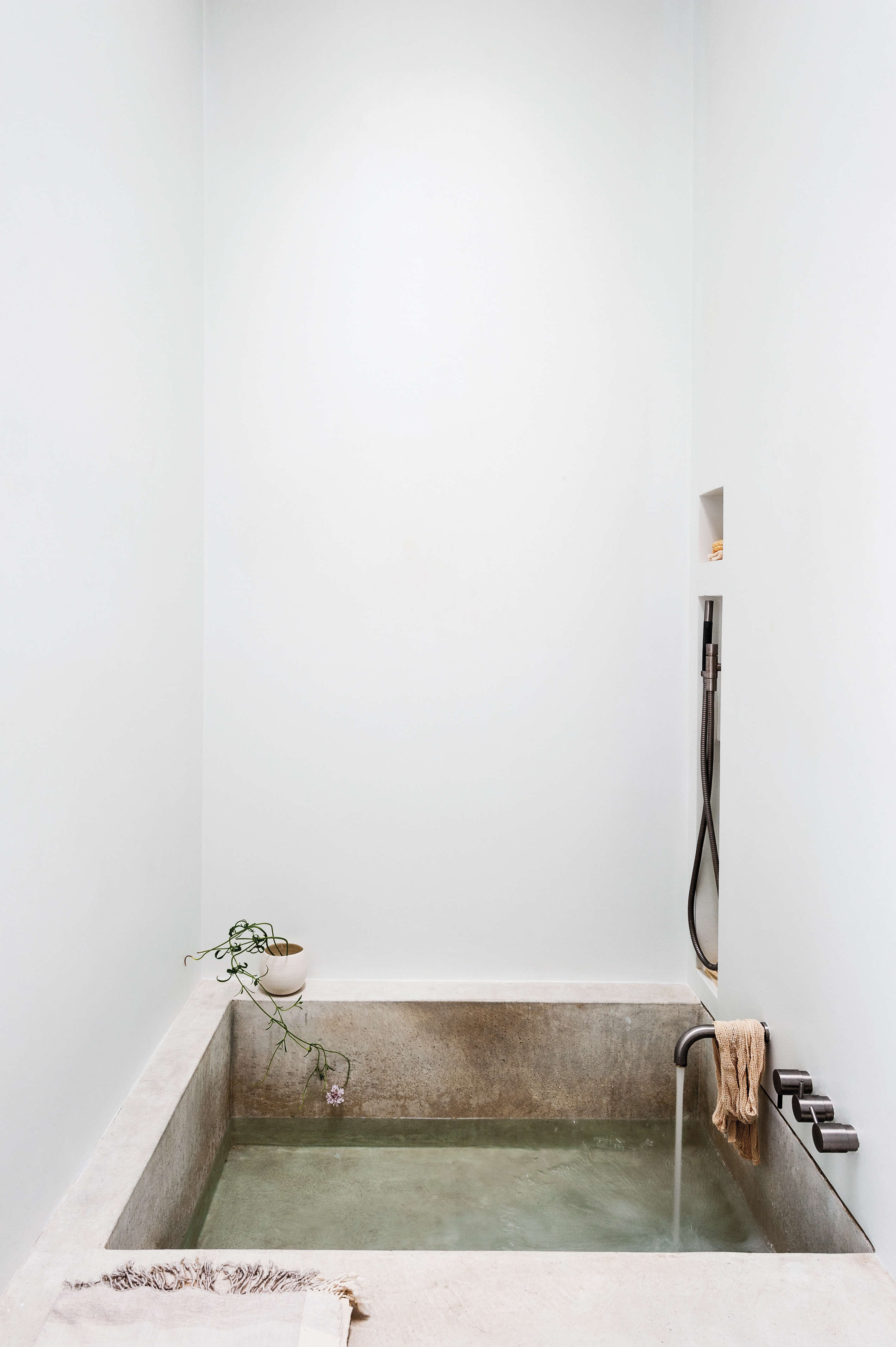 Above: Designer Michaela Scherrer in Pasadena, California, created a cast concrete tub inspired by ancient submerged Crete baths. The tub has a square opening and extends for 18 inches under the floor. Photograph by Matthew Williams from Remodelista: A Manual for the Considered Home. See more of the bath in World's Tiniest Spa Bath: A Grecian-Inspired Guest Suite in LA.
Above: A shower in Swiss architect Le Corbusier's own apartment-atelier near the Bois de Boulogne just outside of Paris. Photograph by Alexa Hotz.
Above: The bath at Villa Honora, designed by Harris & Angelos, from A Rustic Idyll for Four in Mykonos, Greece.
Above: A shower designed by Greg Haji Joannides at the Sterna Residence on the Greek island of Nisyros. Joannides designed the shower, working with a local architect and a Greek cement company to sculpt it from white cement mixed with gray paint. The taps, also designed by Joannides, are made from standard copper tubes. Photograph by Panos Kokkinias, courtesy of the Sterna Nisyros Residence.
Above: A private hammam sculpted of marble at Akasha Holistic Wellbeing Centre in London by David Chipperfield Architects.
Above: Architect David Ling's own shower inspired by Giacometti and Richard Serra. Photograph by Matthew Williams for Remodelista from Life on the Edge: An Architect's Eccentric NYC Loft.
Above: A Tadelakt bath at Dar Darma in Marrakech, formerly owned by Massimo Tocchetti from Milan. Photograph courtesy of Stefania Giorgi Photography.
Above: A seamless bath in an Amsterdam loft by architects Witteveen Architecten, who say they were looking to blend the wall with the bath. They worked with Hi-Macs, a solid surface material, to prefabricate the bath off-site and install it into the walls, blending the two together with plaster. Photograph courtesy of Witteveen Architecten.
Above: A Tadelakt shower with cobalt pigment by Tierrafino, a company specializing in Tadelakt work in the Netherlands (whose founder worked with Joseph Beuys in the 1970s sourcing basalt stones for a project in Kassel, Germany).
Above: A bath designed by architects Daniel Suduca and Thierry Mérillou in their house in Lisbon, Portugal. The cement and lime bath was inspired by the traditional drinking troughs in Portuguese farmhouses, Japanese baths, and the shape of nearby ocean waves. Profiled on Côté Maison and photographed by Nicolas Mathéus. Photograph courtesy of Suduca and Mérillou's firm, Galerie Saint Jacques.
Above: A bathtub formed of the same concrete and plaster of the walls and floors at El Fenn, a hotel in Marrakech. Photograph courtesy of El Fenn.
Redesigning your bathroom? See our posts for more ideas:
Finally, get more ideas on how to evaluate and choose a bathtub or shower in our Remodeling 101 Guide: Bathroom Tubs & Showers.
(Visited 1,495 times, 1 visits today)