Exposed wall-mounted showers can be used both indoors and outdoors, and in situations where in-wall plumbing is a problem. Here is a selection of good choices.
Above: Dornbracht Tara Logic Wall Mounted Shower Set with thermostat, rain showerhead, and hand shower; $4,203 at Quality Bath.
Above: Simple and understated, Grohe's Rainshower system is $419.40 (shower head not included) at Faucet Depot.
Above: Affordable industrial simplicity, courtesy of Kohler. The Industrial Exposed Shower is $352 at Every Faucet.
Above L: Hansgrohe Axor Stark Shower Column with 90-degree valves and adjustable shower head; $1,941 at eFaucets. Above R: Hansgrohe Axor Starck Shower Column with thermostat and downpour showerhead; $2,516 at eFaucets.
Above: Cifial Exposed Shower Kit with 8-inch showerhead; $1,570 at eFaucets.
Above: Dornbracht's Tara Black Edition Wall-Mounted Shower Mixer with fixed riser and cross handles. Go to Dornbracht for dealer information.
Above: Exposed Shower Set by Randolph Morris; $349.95 at Vintage Tub.
Above: Sonoma Forge's Waterbridge Two-Handled Exposed Shower; $2,700 through Sonoma Forge.
Above: Samuel Heath Fairfield Thermostatic Shower Set; from $3,479 at Home and Stone.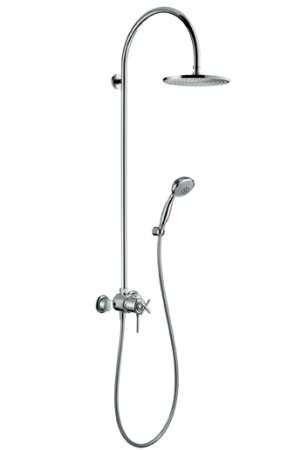 Above: Hansgrohe Axor Terrano Showerpipe with 10-inch shower head, valve, and hand spray; $1,486 at eFaucets.
Above: The traditional Michael Smith for Kallista Exposed Hampstead Shower Set; starts at $3,605 at Ann Sacks.
Above: Mico Exposed Thermostatic Shower Set 2; $2,011 at Quality Bath.
Finally, get more ideas on how to evaluate and choose a bathtub or shower in our Remodeling 101 Guide: Bathroom Tubs & Showers.
(Visited 761 times, 4 visits today)