Take note: Menswear fabrics in the form of woolen check, Harris tweed, and houndstooth more are making their way from London's Savile Row into the modern home. From the newly opened Rivertown Lodge in Hudson to the home of Margaret Howell (who made Irish tweed cool again), here are three examples of menswear as home fabrics and several ways to get the look at home.
Above: A quick way to upholstery: furniture covered in wool blankets and topped with tweed pillows from House Call: An Artist's Home in Shoreditch.
Above: A vintage chair sourced on eBay is reupholstered in yellow wool and black-and-white check fabric from A Hotel with a Sense of Place: Rivertown Lodge in Hudson, NY.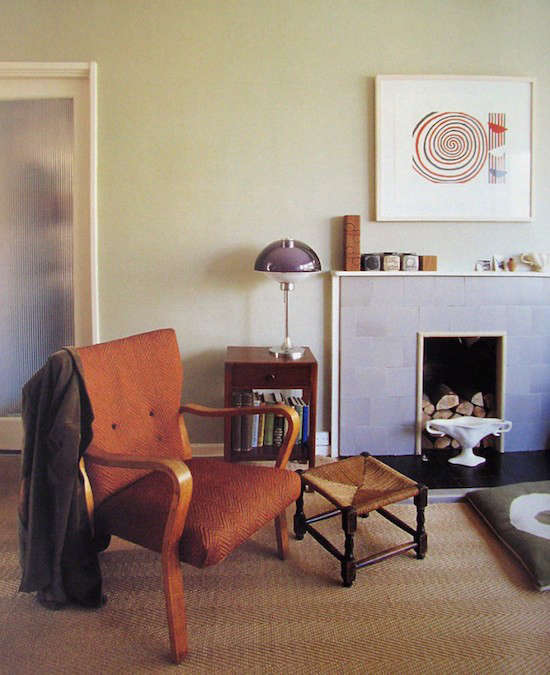 Above: A chair upholstered in rust-colored herringbone wool at Margaret Howell's house on the Suffolk coast from the Japanese book Margaret Howell Houses, available through eBay.
Get the Look
Above: The Jack Loveseat in Nubby Tweed is custom made in Los Angeles; $1,950 from Schoolhouse Electric.
Above: The Donegal Tweed Houndstooth Cushions from 31 Chapel Lane are made of handwoven Irish tweed; €80 ($86.41 USD).
Above: The Robin Day Reclining Chair is upholstered in collaboration with Margaret Howell and Mourne Textiles; £2,120 ($3,191 USD) at TwentyOneTwentyOne.
Above: The Otley Sofa designed by Matthew Hilton for De La Espada has a name after a town in West Yorkshire with a legacy of Modernist art. The sofa in an oak or walnut frame with tweed fabric is $14,545 at The Future Perfect or through De La Espada.
Above: Discovered through Margaret Howell, Mourne Textiles is a family-run business pairing traditional tweed with modern design since 1954 from the Mourne Mountains in Northern Ireland. Shown here are three ready-to-order cushions: the Mourne Check Cushion in Cloud, the Mourne Stripe Cushion, and the Mourne Check Cushion in Granite, £125 each.
Above: A Mid-Century Button Tufted Bed is upholstered with a black and white tweed fabric; $1,099 at West Elm.
Above: Tetrad's Victoria Chair is made with Loden Herringbone upholstery and tan leather piping. The chair is available in a range of fabrics which include more herringbone patterns, wool check, and Harris tweed fabric. Contact Tetrad for pricing and availability.
Above: The Urban 2-Piece Chaise Sectional can be customized with one of 23 different tweed fabrics; prices start at $2,298 at West Elm.
For a history on tweed see our post Harris Tweed: A Landscape Translated into Fabric. For more trends to watch visit:
(Visited 135 times, 1 visits today)
Frequently asked questions
What is the trend for men's wear fabrics in home decor?
Men's wear fabrics like Irish tweed and herringbone are currently trending in home decor.
What is Irish tweed?
Irish tweed is traditionally a handwoven woolen fabric that originated in Ireland.
What is herringbone?
Herringbone is a pattern characterized by a series of V shapes that resemble the bones of a fish.
How can Irish tweed and herringbone be incorporated into home decor?
These fabrics can be used for upholstery, pillows, throws, curtains, or even as wall coverings.
What are the benefits of using men's wear fabrics in home decor?
These fabrics are durable, classic, and have a masculine feel that can add depth and texture to a space.
Where can I find Irish tweed and herringbone fabrics?
These fabrics can be found at most fabric stores or online retailers that specialize in home decor fabrics.