At my house, Halloween commences with an evening spent carving white pumpkins while Ingmar Bergman's The Seventh Seal plays on the television. This tradition points me toward all things grim reaper, which is what draws me this year to Josh Vogel's hand-carved wooden skulls.
An architect turned wood artisan and furniture designer, Vogel co-founded New York's BDDW and is owner of Blackcreek Mercantile and Trading Co. He also, it turns out, has a past life as an anthropology student traveling through Australia, Haiti, and the American West–which explains the skull fixation.
Above: Vogel has carved skulls in some form for as long as he can remember, "as a meditation or sculptural sketch," he says. Each year in October, Vogel starts sketching and this year the limited edition will be available through Nashville shop Imogene + Willie.
Above: A haunting cast of forms, carved from pale wood. "At an early age I was enthralled by the graphic imagery of [Mexican illustrator] Jose Guadalupe Posada's calaveras or skulls, and the sharp contrast of the Dia de los Muertos festival and marigold parades," says Vogel. "There is a very different perspective and commentary that weaves itself into this type of imagery and folk art. It can be at once scary, humorous, sad, and beautiful."
Above: "The skulls are especially interesting to make as they begin to become self aware. I am always surprised at the moment of transformation, the moment that the work makes them more than just a piece of wood," says Vogel.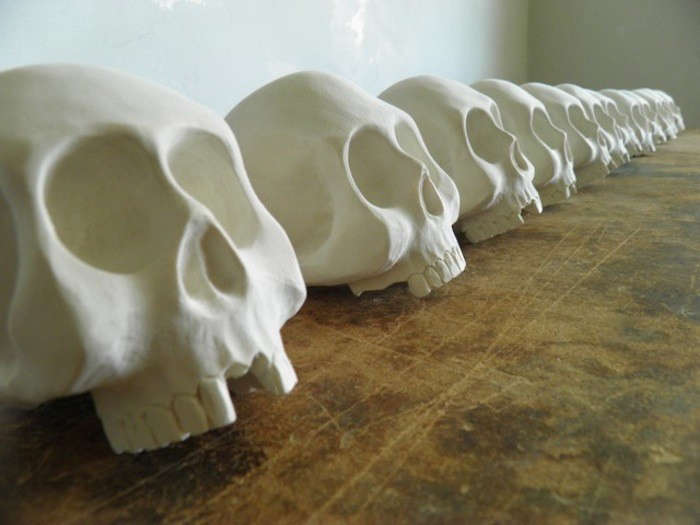 Above: Each form is unique with some skulls missing front or back teeth.
For more Bergman inspiration visit A Color Palette Worthy of Ingmar Bergman, and for more on Vogel see Blackcreek Mercantile and Trading Co. in the Hudson Valley.