This content was produced as advertising by Remodelista in collaboration with Casper.
If you haven't heard of sleep startup Casper, it's time to get caught up. We first introduced readers to Casper back in 2014, when it was a nascent brand striving to redefine the mattress category. Casper's idea was to bring a high-quality mattress straight from the manufacturer to the consumer without the costly addition of multiple product lines and commission-based sales. According to Casper CEO and cofounder Philip Krim, "Mattress retailers play a game with eight gradients of firmness; that's how they guide you through the showroom toward something more expensive."
Fast-forward three years and the Casper mattress has sparked a near-revolution in the sleep space: Time magazine named it one of the best inventions of 2015, and the company is one of the fastest-growing consumer brands of all time.
Read on to learn more about the Casper mattress, and be sure to check out Casper's sheets, pillow, waterproof mattress protector, and bed foundation, too. (Have a four-footed friend at home? Casper also offers a dog mattress.)
Interested in giving the Casper mattress a try? The company is offering Remodelista readers $50 off any mattress using code REMODELISTA.
The mattress has a 1.5-inch layer of responsive memory foam to provide the support critical to a restorative night's sleep. The topmost layer is made of open-cell foam to promote ventilation and keep you cool at night.
The entire Casper mattress is made in the US of American materials, with the exception of the gray mattress cover, which uses fabric from Belgium.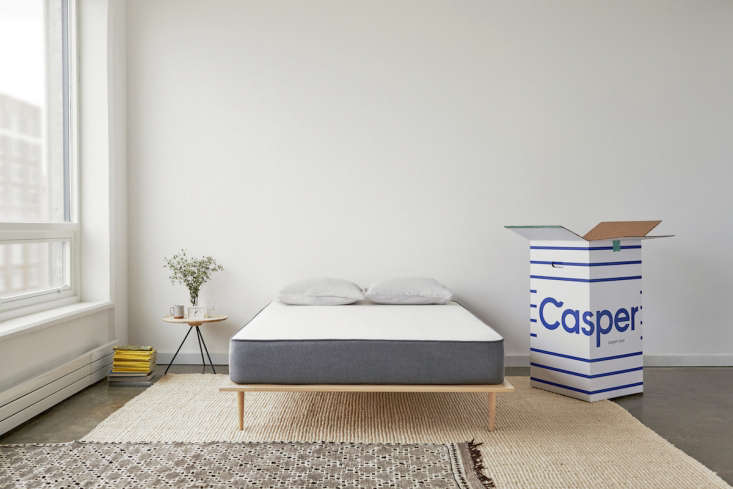 If you're in the market for a mattress, pillow, and sheets, buy the Casper sleep system and save on the bundle.
The mattress arrives in a box that's a mere 19 inches square by 42 inches high. (When yours arrives, join millions on social media by posting your ceremonial Casper "unboxing" video.)
Don't forget: Get $50 off a Casper mattress using code REMODELISTA at checkout.
You need to login or register to view and manage your bookmarks.