SF firm Boor Bridges Architecture is behind some of the most happening restaurants in the Bay Area (Trou Normand, from the Bar Agricole team, for instance). Also on their roster: Sightglass Coffee and Lusty Lady, a union worker-owned peep show downtown. Our favorite project? The Mill, a cafe where light filters into a tiled kitchen through a series of skylights; it's the perfect place to lose a few hours in.
The cafe is a collaboration between Josey Baker (yes, his real name), a bread baker who is as enthusiastic about good loaves as he is about jumping into rivers in the nude, and Fourbarrel Coffee. The menu is straightforward: premium coffee and fresh-from-the oven bread (almond butter-slathered on toast, anyone?). The design of The Mill was inspired by, in the architects' words, "Everyone's first San Francisco kitchen–that bright, messy, warm space that came with your first real apartment. It was probably at the very end of a long Victorian flat, maybe in the Mission. It probably had good light even though the laundry porch was in the way." The Mill is spot-on: subtle Victorian details and a mixed palette of wood are some of the many elements that make it feel like an extension of home.
Photography by Bruce Damonte for Boor Bridges Architecture, unless otherwise noted.
Above: The long, narrow space is airy and bright thanks to white walls and a sculptural skylight. Boor Bridges worked with contractors Roman Hunt and Jeremy Tooker to build out the interior.
Above: Custom shelving made by woodworker Alex Palecko from reclaimed Douglas fir runs the length of the restaurant.
Above: A cross section of the space shows the mix of woods: white oak, Douglas fir, and ash. Rows of ceiling beams are built beneath skylights and a light soffit; it all works to concentrate filtered light over the bakery and barista area.
Above: Kneading bread on a custom table built by Alex Palecko. Photograph from Behind the Food Carts.
Above: Stacks of loaves behind the bar. Photograph from Club Antietam.
Above: Window seats are the most coveted spots in the cafe. Boor Bridges was looking to replicate the feeling of a home kitchen. Photograph from Warby Parker.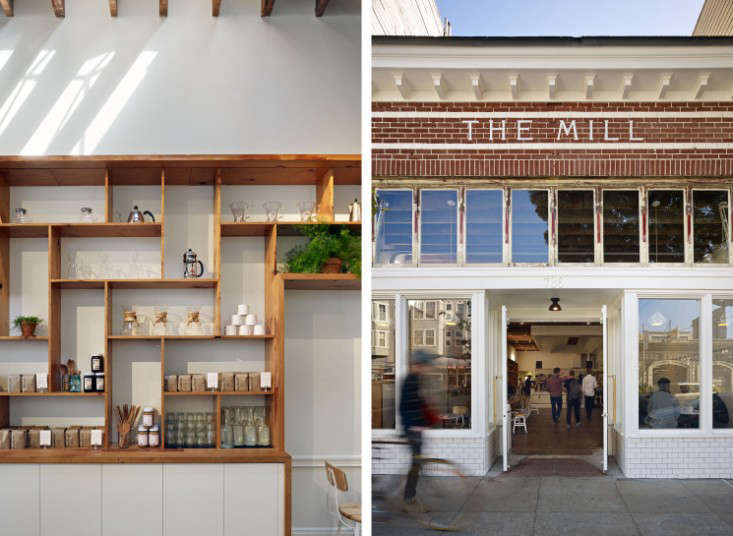 Above: The rectangular shelving system is ideal for display. Above R: The brick and tile storefront has clerestory windows for maximum sunlight.
For more to explore in the area, visit our San Francisco Bay Area City Guide. For more of our favorite Coffee Shops & Cafes around the world, have a look in our archive. On Gardenista, visit the Open-Air Flower Studio at Stable Cafe in SF's Mission District.
Below: Location of The Mill in NOPA, San Francisco:
You need to login or register to view and manage your bookmarks.