This week, New York designer Brad Ford describes his version of what he calls "Authentic Design," illustrated via a guided tour of his own home. He is available for the next 48 hours to answer any and all questions. Ask away!
Growing up in rural Arkansas with the woods for a backyard, designer and taste maker Brad Ford (a member of the Remodelista Architect/Designer Directory) has always been drawn to the organic shapes and colors found in nature. In his New York Chelsea apartment, the designer practices what he preaches and surrounds himself with meaningful objects and artwork that tell interesting stories about his life and experiences. "Designing authentically means working with my clients to work their interests into their spaces," says Ford. "It's about getting them over the fear of feeling vulnerable that the things they own and love can't be placed in a context that is beautiful."
Photography by Eric Striffler.
Above: Ford mixes vintage midcentury chairs by Danish designer Paul Kjaerholm with an organically shaped wood coffee table by French artist Jerome Abel Seguin. Green cuttings bring a splash of color and nature inside.
Above: The designer constantly finds inspiration in nature, whether in its organic shapes and forms or in plants themselves, such as the blossom branches he picked up from the Chelsea flower market around the corner from his apartment. His obsession even extends to insects (notice the Austrian metal grasshopper sitting on the the frame of a Robert Mapplethorpe print). "I have always been intrigued by insects; there is so much beauty in their color and structure," Ford says.
Above: In Ford's harmonious world, a neutral palette allows everything to exist calmly without fighting for attention; as reflected in a Captain's Mirror by BDDW.
Above: The "Donald Juddesque" wall sculpture is made up of wall-mounted metal cabinets from Ikea. "The storage is actually quite handy," Ford says. Ford's father did woodworking as a hobby, and the wood sculpture from a friend reminds him of his father.
Above: "I am drawn to things that are handmade and reflect the work that was put into them," Ford says.
Above: After a trip to South Africa, Ford's family gave him an Impala head which hangs on the wall next to a series of vintage Victorian medical splints. "I am fascinated by their shapes," he says.
Above: Ford was drawn to this midcentury desk because of the unexpected shelf detail, which is ideal for displaying his ceramics. The adjustable standing lamp was designed by the late French designer Andrée Putman.
Above: Ford's artwork includes a small still life painting by the artist who painted the backdrops on the Muppet Show; the watercolor is by David Rathman (it's of a rather polite cowboy: "Sorry, I need to borrow your horse," he says).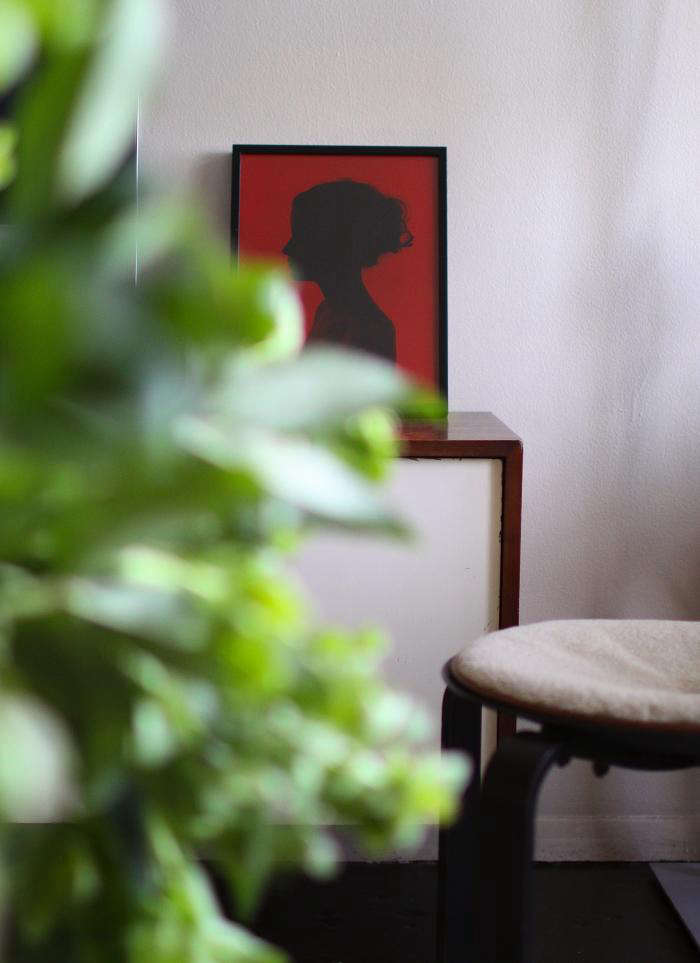 Above: "I was drawn to the contrast of the modern use of the color red with the traditional concept of a silhouette," Ford says. "When I start a project, I often ask my clients what their favorite color is and what it represents to them."
Above: Ford's gentle giant Turbo relaxes on the bed as he is overlooked by a map of the moon that Ford found in a flea market. Ford celebrated his first birthday on the day of the first moon landing in 1969.
Above: Ford maximized the width of his bedroom and designed a wall to wall built-in headboard.
Above: Ford introduces a sea of color into this bedroom through his collection of Scandinavian pottery.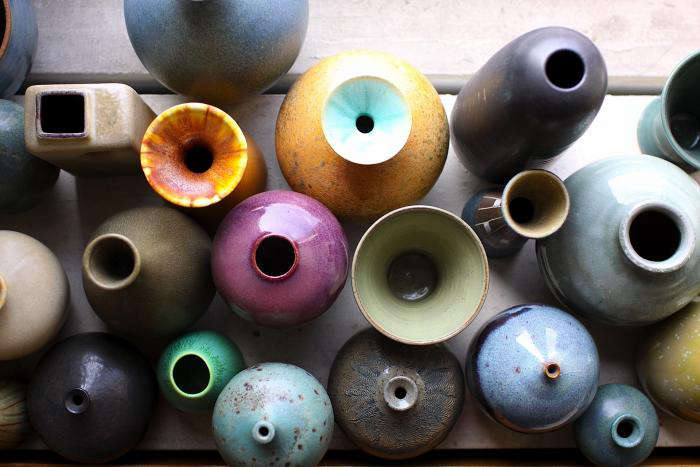 Above: "I am drawn to the muted subtle colors of Scandinavian glazing," Ford says. "While bright, they are not garish."
Interested in seeing more of Ford's "Authentic Design"? See A Mobile Bar Inspired by Bourbon and A Holiday Table with Soul.
Have any questions about "Authentic Design" and how to put the concept to work in your own space? Ask away in the Comments section below.
(Visited 172 times, 3 visits today)