If there's one thing that makes our job worthwhile, it's when we hear our friends and readers talk excitedly about their homes. While the small details of color and fabric are important, it's the grand picture that matters; creating a place of comfort and happiness for family and friends. So when M&M'S® recently invited us to New Orleans to take part in a construction project for a mother and daughter sponsored by Habitat for Humanity, we were excited.
Two days in the vibrant city found us meeting forward-thinking creatives and talking homes and design. We kicked off our trip with the Better with M cocktail hour and dinner at The Foundry, where we toasted with artists and philanthropists (including Ms. Brown herself) over Mars' efforts to "M-Prove America." The following day, we gathered (hammers in hand) with volunteers at a New Orleans Area Habitat for Humanity build site. Working next to like-minded people from all over the country, we were reminded of what motivates us at Remodelista: creating a home of one's own.
Photography by Stacey Lindsay for Remodelista, unless otherwise noted.
Above: On our first night in town, we chose to walk through the French Quarter to the Better with M kickoff party in the warehouse district, which allowed us to admire the city's legendary architecture.
Above: Proving that everything is Better with M, the cocktail hour and dinner at The Foundry was decorated with the iconic candies (they were even present on the menu). The event space was designed by award-winning producer and designer Jes Gordon. When talking about her inspiration for the evening's decor, Gordon said she was going for a "heightened New Orleans" look with a supper club vibe. Gordon, who owns the design firm Proper Fun, marked each table with New Orleans street signs.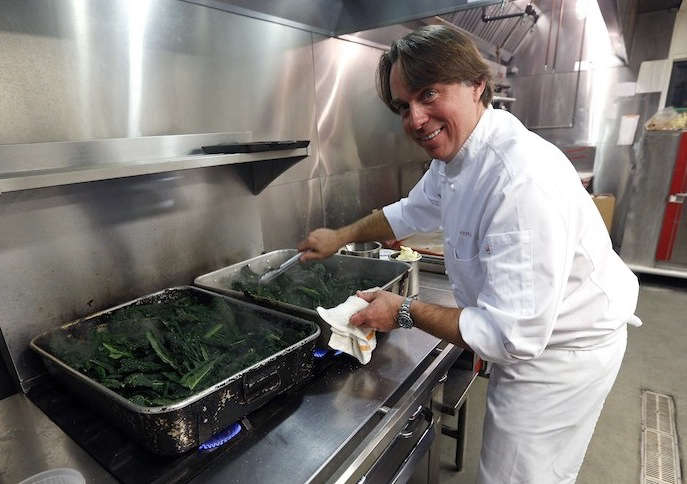 Above: Chef, cookbook author, and restaurateur John Besh prepared the evening's menu of local vegetables, crawfish, and slow-roasted prime rib. Born in Mississippi and raised in New Orleans, he lived and worked in various parts of the world before returning to his roots. When speaking of New Orleans, Besh describes the city as having a true "sense of place," as well as "the only indigenous urban cuisine left in America." An avid philanthropist, he uses food as a way to "make a difference in communities across the country." Photo by Jonathan Bachman.
Above: The following day, we all gathered at the build site with the home's future owner, Gloria Smith, and her daughter Quana. Smith partnered with New Orleans Area Habitat for Humanity to build "her dream home." A passionate cook, she's most excited to use her new kitchen and will be leaving all the decorating decisions to her daughter. We worked with numerous volunteers constructing and elevating the foundational walls of the three-bedroom home. Of all the houses built, there are about 15 different plans, said Scott Pointer, Director of Construction for New Orleans Area Habitat for Humanity.
Above: Near the day's end, the structure was beginning to look like a house. The program staff chooses the plan according to the architecture of the neighborhood, as well as the size of the lot. When we asked about the general strategy behind Habitat, Pointer explained "sweat equity," which refers to the hours of labor each future homeowner must dedicate upon acceptance into the Habitat program (it includes helping to build their own home, as well as those for others). A proven method of educating members on homeownership and maintenance, Pointer says it also builds self-esteem, empowerment, and a sense of community. And this was the spirit of our two days in New Orleans: Building a home, and, as Doug Williams said, "giving people a hand."
Sponsored by: